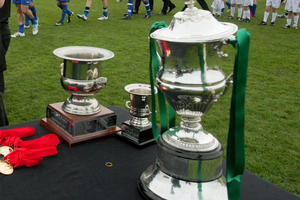 The fourth round Chatham Cup match between Palmerston North Marist and Napier City Rovers will go ahead this Saturday as scheduled despite Wairarapa United's impending appeal to overturn their disqualification from the competition.
Napier City got a reprieve in the 90-year-old competition when their third round 1-2 loss to Wairarapa a fortnight ago was overturned due to the Masterton-based club fielding an ineligible player.
Wairarapa United have informed New Zealand Football that it intends to lodge an appeal before the allotted seven-day window expires on Monday.
Even if the appeal was lodged before the weekend and considered under urgency the process would not leave enough time to arrange the Cup fixture and reschedule local league matches.
New Zealand Football's Competitions Manager Chris Kemp said it was clear from discussions with Marist and Rovers that the two clubs wanted the show to go on.
"Both Palmerston North Marist and Napier City Rovers have informed us that they would prefer to go ahead with the match as part of this weekend's fourth round activity, acknowledging that if Wairarapa is successful with their legal challenge the result could be annulled and a new fourth round match played," Kemp said.
"We are confident that we have taken the right action in terms of the original protest against Wairarapa but we defend the club's right to appeal and our appeals committee will hear their case when lodged irrespective of what happens on the field this Saturday.
"At this stage of the season, having already experienced unprecedented disruptions to weather, we feel it is the best interest of the Chatham Cup to forge ahead and deal with the appeal as a separate process."
The fourth round match between Palmerston North Marist and Napier City Rovers will take place at 2pm this Saturday at Skoglund Park.
- APNZ