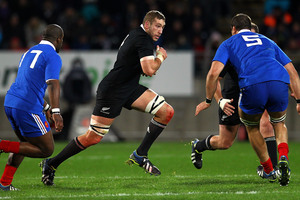 Sky Sport has copped angry feedback from viewers annoyed over two screening errors during the All Blacks versus France test on Saturday night, including an unscheduled advertisement break.
The Super 15 advert, ironically promoting live, uninterrupted games, played for 30 seconds as the All Blacks were camped seven metres out from the try line.
The incident came just before iSky subscribers watching the game live on the internet lost the feed for about half an hour.
Sky TV spokeswoman Kirsty Way apologised, saying it was not planned and was not a forerunner of more adverts appearing in live rugby games. "It was human error. It was a 30-second promotion that was played about 18 minutes in when a lineout was about to take place. So hands in the air, it was our fault. We're really sorry."
Sky also came under fire for dropping iSky coverage during Saturday's test.
One rugby fan set to watch the third test on a projector screen through his computer with friends was furious when his iSky service failed.
"We missed the coverage," Lars Sorensen said. "We had to watch it on Prime later in the night. It was disappointing."
Irate Sky subscribers took to Twitter and Facebook with a torrent of complaints:
"So I pay my Sky sub ... 60 months interest free at harvey norman this weekend ... and they slip an ad in? Ruuude!" complained radio DJ Dominic Harvey.
"Bloody amateurs!" was Andrew Kay's verdict.
Helen Emson warned: "I can assure you, we are very close to cancelling our Sky subscription ... Bring on competition."