Intransigent belies name by being in perfect harmony with winning hoop.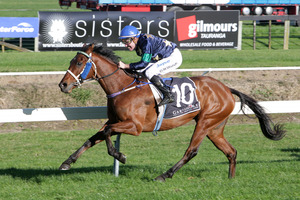 David Walsh says Intransigent is the perfect example of why trainers should not switch jockeys around on horses too often.
He believes it was a major ingredient in Intransigent's win in the $40,000 Amcor Kiwifruit Cup at Tauranga on Saturday.
"These days, horses can win when perhaps one element in a race is against them, but not more.
"A lot of horses can win only when everything is in place.
"When horses have four or five things against them in a race they have no hope."
Walsh says everything fell into place for Intransigent this time, including the fact that he knows the talented stayer well.
"I'd done my homework and determined he could win through the ground on the inside.
"Another huge factor was that with a decent topweight [Indikator] in the race this time, his weight had been compressed down to 53kg.
"In the Central Districts the overall class has not been great in the open handicaps and this bloke has had to carry bigger weights.
"This was much better for him."
Intransigent has not been easy to work out mentally for Walsh and for Waipukurau part-owner and trainer Kirsty Lawrence.
"Last year he got into this habit of missing the jump and we couldn't work out why.
"Then he decided to get out quickly, working too hard and not being able to finish off."
Both trends have evened out and Saturday's win was an example.
"He's still got a few little quirks and sometimes he surprises you, but he's pretty good.
"He's the example of why trainers should as best they can stick with jockeys who know their horses."
Lawrence claimed she was in a fair bit of pain before Saturday's win and she almost certainly was, but it wasn't as obvious immediately after the race.
Lawrence's saddle slipped during a gallop on Intransigent's young sister on Saturday morning, dislocating a knee and ripping ligaments.
A couple of points come as no surprise to trainer Lee Somervell when he thinks of Saturday's Tauranga winner Kapsboy. One is that he is extremely promising - he is after all a half-brother to Somervell's big winner Fleur De Lune.
The second is that it had taken him 10 starts to win his second race.
"He's a slow-maturing type and I've always known that.
"He won as a late 2-year-old, but his best form was always going to be a fair way off at that point."
Saturday's win was no surprise to the Cambridge trainer after Kapsboy had fought hard after getting to the lead a touch early at Te Rapa when a close third the previous start.
This time he went keenly again, but had matters well under control when in front in the home straight.
"He'll keep getting better," said Somervell.
A tongue tie will not be seen again on favourite Chapchick after the promising staying mare resented its introduction when well beaten at Tauranga.
There was no better deserved victory on Saturday than second favourite Let's Be A Star in the last event.
She had fought extremely hard for two close seconds in testing ground at Ellerslie and backed up very well to win easily.
It looks as if there might be a decent win in her for trainer John Sargent.
Stephen Ralph is making a name for himself as a trainer.
Winning a high-profile race with a 3-year-old filly is pure gold.
To win a race like Saturday's $50,000 Team Wealleans Tauranga Classic with a filly having just her 11th race start is magical indeed.
Magic Belle surprised a few when she toppled her much better-performed opposition, although Ralph has always known that he has a talented filly on his hands.
With earnings of $30,000, Magic Belle had won $200,000 and $100,000 less than some of her rivals, but managed them well despite the set weight conditions.
"That's a great result for our family," said Ralph.