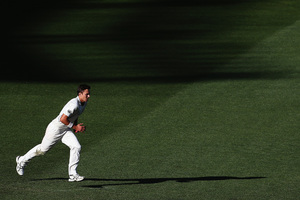 The next lot of contracted players will be the first selected since national coach Mike Hesson took charge.
Tim Southee and Trent Boult are expected to be the main winners when New Zealand Cricket reveals its 2013-14 national contracts list in the next fortnight.
Despite the country's inadequate test batting, the pair have brought confusion to bear on opposition top orders, using swing and guile with the ball.
Mitchell McClenaghan is another thought to be on the move with what will be his first contract after strong performances in limited overs cricket. Coach Mike Hesson has suggested he could move to the test ranks before long. Expect incumbent test pace bowler Neil Wagner also to come into contention for a centralised deal after his consistency at test level.
As many as six of the annual 20 names are expected to change as Hesson's selection influence takes hold. Hesson is closing in on a year in charge of the national side - he was appointed on July 20 - but came to the role after the previous selection panel had already settled this year's contract selections.
The current deals cease on July 31.
Jacob Oram opted out of his NZC contract in December but Daniel Flynn, Chris Martin, Tarun Nethula, Rob Nicol and Kruger van Wyk are likely to miss the cut. James Franklin will be marginal after a disappointing England one-day international series and Champions Trophy. His performances in this week's two Twenty20s against England could be more important than anyone's.
Hamish Rutherford, Tom Latham and Corey Anderson seem certain to be picked while the value of Colin Munro, Grant Elliott, Andrew Ellis and Peter Fulton will be debated.
Recent players who will struggle to make the top 20 include Bruce Martin, Jimmy Neesham and Luke Ronchi. Jesse Ryder is set to remain on the periphery.
While the International Cricket Council's tours programme is subject to change, New Zealand is listed for 11 tests, 21 ODIs, six T20s and a World T20 in Bangladesh. However, there will still be an emphasis on ODIs leading up to the 2015 World Cup at home. Like it or not, the contracts will reflect this.
India, for example, are understood to be in talks to drop one of their three tests which is an irritant to them playing in Asia Cup ODIs.
Set criteria are used to rank players across all three forms. Tests receive twice the weighting of ODIs and T20 internationals. Players with the highest aggregate scores are signed up.
Contracted salaries are not for public disclosure. During a recent season the top contracted player earned $177,000 which was scaled back in $6000 increments until Nos 18, 19 and 20, who each earned $72,000. Those figures are likely to have adjusted northwards under the current agreement to counter factors like inflation. Match payments are separate. Early last year those figures were $7508 for a test, $3254 for an ODI and $2127 for a T20I.