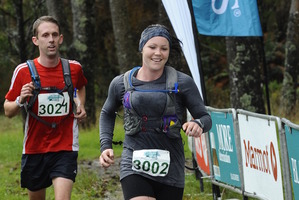 Leah Anstis used to drive past people running on the street and shake her head.
"I'd say to myself: 'What the hell are they doing? Running isn't fun.' I thought they were just stupid."
Now she is one of them.
The 24-year-old from Auckland has gone through a remarkable journey of self-discovery the past few years as she has become addicted to running, or more specifically, trail running.
She now trains six days a week (and twice on one day) for 90 minutes each time, clocking up around 100km every week.
It is all a long way from where her passion for the sport inadvertently began.
Anstis, who said she was "always a chubby kid", left school, moved out of home and gained weight "topping out at a stunning 106.8kg".
That was before her mother bluntly told her she needed to lose weight.
"It always cuts deep when your own family tells you something like that," said Anstis.
She cut "all of the crap" out of her diet and started walking every day. Before she knew it she was walking for one to two hours a day.
"I lost about 35kg in six months and I was a totally new person."
Just as things were looking up her mother was diagnosed with lung cancer, which sent her family into a spin.
Her mum died 18 months later and Anstis struggled with the loss and put the weight back on. But her mum had inspired her daughter to turn her life around through fitness.
She decided she needed to get back into exercise so she joined a boot camp. The instructor was doing the Blackmores XTERRA Auckland run / walk series.
"When the last one rolled around he managed to get a few of us to sign up. It was my first ever running race. Well, 6km at Hunua was the hardest thing I'd ever done! But it was awesome."
The larger-than-life character had the bug. Through a friend she found out about a local "joggers group" at Whitford Forest so started going along.
"Before I knew it I could run for an hour and enjoyed it. I started doing more races, never doing that well, but still enjoyed being there."
Nicola Carter, of total sport who run the Blackmores XTERRA Series, said Anstis' story was hugely rewarding.
"Leah's story and journey is why we do what we do," she said.
"It is so inspiring to see people cross the finish line at the events, completing their chosen challenge. Whether it's their first 5km trail run or their 10th marathon it is always such a buzz.
"We have seen a big increase in the number of females taking to the trails, we like to think it captures their imagination and adventurous Kiwi spirit."
Anstis said the death of her mum still affects her. "There aren't too many big runs where I don't break down crying thinking about mum. Running is a really emotional journey for me. I am out there for four hours and it all comes flooding out really. I'm a real sooky pants when it comes down to it.
"I think about mum out there because she was the reason I got into this in the first place. It was pretty humbling hearing her tell me that I needed to lose weight but it was exactly what I needed to hear at the time. She wanted the best for me."
Mid last year she signed up for the Tarawera ultra-marathon (60km) to raise funds for Hospice NZ for her mum. She enlisted the help of a physio, Pilates instructor and a coach (James Kuegler) and the journey began.
"After 10 hard and emotional months I lined up at Rotorua and kicked ass. I raised $6000 for Hospice as well. It was a lot of pain. The biggest feeling I had coming in over the finish line was relief. It was quite an emotional journey for me. Since I was doing it as a fundraiser I was determined to get there.
"My biggest motivation was not letting people down and that really pushed me. It is surreal now looking back to think I was running for over seven and a half hours. I could never see myself doing that but it's amazing what you can achieve with a goal."
Anstis now takes the joggers group on the weekends as she spreads the joy of trail running.
"Trail runners make the best friends. Running is my social life now. It is the social highlight of my week doing an event and I have met heaps of people out there on the trails.
"It has been really cool for me to be part of something like the XTERRA series where everyone is friendly and trying to achieve the same thing.
"It is motivating being in that environment. I look forward to my weekend runs so much now."
Her new addiction has also been a great bonding time with her dad.
"He is amazing. I was never the most athletically gifted in the family but now I am doing cool events and dad is always there.
"He spends five to six hours out in the cold waiting for me to finish, which can't be a lot of fun but he never complains and is always waiting for me to finish."
Anstis is training harder and longer than ever now. Her focus has moved away from racing this winter in favour of getting some strength and speed up for the 60km Waihi XTERRA and the West Coast Marathon later in the year.
She is running so much now that her weight has become irrelevant.
"I don't know what I am but I think I am around 71-72kg which is really cool."


Blackmores XTERRA Auckland Trail Run / Walk Series, May 19-Sept 1
Event 3: Waiuku Forest, Sunday June 30
Event 4: Woodhill Forest, Sunday July 21
Event 5: Waharau Regional Park, Sunday August 11
Event 6: Hunua Ranges, Sunday September 1
Event Options:
• Short (5-8km) walk or run
• Mid (10-14km) walk or run
• Long (16-20km) run only
• Super-Long (20km+) run only