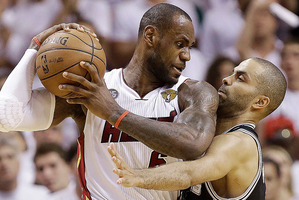 The Miami Heat are back-to-back NBA champions after taking out a nail-biting game seven against the San Antonio Spurs.
LeBron James had 37 points and 12 rebounds and Dwyane Wade had 23 points and 10 rebounds in the decider.
But veteran shooter Shane Battier was the difference, hitting 6-8 three pointers to lift a sometimes-stagnant Heat offence.
The Spurs will rue several late mistakes from their stars Manu Ginobili and Tim Duncan.
Hayden Donnell of nzherald.co.nz and comedian Guy Williams covered the action live in game seven, where a new NBA champion will be crowned.