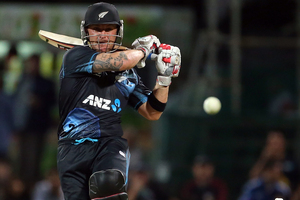 Corey Anderson will make his one-day international debut for New Zealand in their Champions Trophy match against England in Cardiff.
Click here for live scoreboard.
He replaces Tim Southee who is out with an ankle twinge.
New Zealand captain Brendon McCullum has won the toss and chosen to field. The weather is overcast with rain expected.
Anderson is a late addition to the squad. His previous experience includes three Twenty20 internationals in South Africa. The 22-year-old replaces Grant Elliott who aggravated his calf muscle injury at training yesterday.

If rains prevents a contest, New Zealand will be ushered into the semi-finals and England will rely on the result between Australia and Sri Lanka.

With three points in Group A, and the highest net run-rate (+1.048) after bowling Sri Lanka out in 37.5 overs, New Zealand are poised to head to the Oval for their play-off match.

England are second (+0.289) and Sri Lanka third (-0.517) on two points, despite Sri Lanka hauling in England's 293 for seven to win by seven wickets with 17 balls to spare.

Australia (-0.960) need to beat Sri Lanka convincingly and hope New Zealand beat England, if they're to qualify without requiring mathematical assistance.