Artemis vetoes bid to delay start of series because of time pressure, but questions are asked about veto.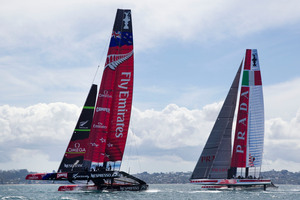 The international jury may be asked to step in to rule on a stoush between the America's Cup challengers after Artemis vetoed a proposal from Team New Zealand and Luna Rossa to alter the racing schedule.
With the Swedish team indicating they would not be ready for racing until late July and the Louis Vuitton Cup in danger of becoming a two-boat farce, the two race-ready challengers proposed to delay the start of the round-robin series until July 19. Artemis rejected this proposal, as they believed it would put them under more time pressure.
But questions are being asked whether Artemis had the right of veto.
Emirates Team New Zealand boss Grant Dalton believes Artemis - whose programme has been marred by the crash that killed Andrew Simpson and wrote off their boat - have improperly used their position as challenger of record to impose a solution the majority of teams do not want.
Clause 25.3 of the protocol governing the America's Cup states the format of the challenger series can only be amended upon the agreement of the majority of the challengers and regatta director.
"Normally the challenger series of an America's Cup is run on terms that meet the wishes of the majority of challengers," said Dalton.
"This is not the case here with Artemis rejecting the proposal and wanting to continue running an event schedule in which ... they will not compete in in the early stages."
Sail World are reporting the matter is expected to be referred to the international jury for mediation.
The latest development comes after a testy exchange of press releases from the two syndicates.
Unhappy with Dalton's comments in a Herald on Sunday story, in which the Team NZ boss hit out at Artemis for vetoing attempts to create a more credible racing schedule, Artemis chief executive Paul Cayard fired back, claiming Dalton's comments were out of line and unsportsmanlike.
"Dalton's proposals ... make it even harder for us to compete. To shorten an already tight timeline is clearly not acceptable to us, as to any team in the same position. Dalton's proposals benefit no team but his own, and his public insults are out of line and unsportsmanlike," Cayard said in a statement.
"We are doing our best to recover and our target is to be ready for racing in the Louis Vuitton Cup's semifinals on August 6, if not earlier. In the meantime, the race schedule should remain unchanged and the derogatory analogies should be left on the dock."
Team NZ said their joint proposal with Luna Rossa was "done in the hope of enhancing the event with a full muster of boats from the beginning, and therefore, placing more importance on the racing from the first race, something for which fans and sponsors are craving right now".