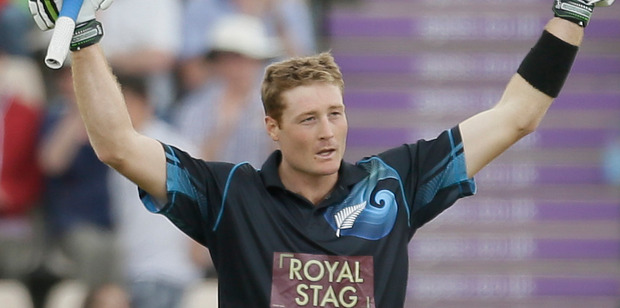 Any day you're compared to Sir Isaac Vivian Alexander Richards as a cricketer is sure to bring a warm glow.
Richards, the original Master Blaster, is arguably the most devastating batsman of all time on the basis of sheer aggression.
On May 31, 1984 he swaggered to the wicket and set the record for the highest innings in a one-day international against England (and then the world) with 189 not out for the West Indies at Old Trafford.
Martin Guptill matched him overnight, only he did it with a better strike rate (121.93 v 111.17) and only had 50 overs to work with. Richards' match had 55 overs although he did come to the wicket after the dismissals of Desmond Haynes and Gordon Greenidge.
Guptill led his side to 359 for three and an 86-run win in the second match of the series against England. New Zealand won the series with a match to play.
He eclipsed Lou Vincent's 172 against Zimbabwe in 2005 as the highest ODI innings by a New Zealander.
Guptill received support from Kane Williamson (55) in a partnership of 120, then Ross Taylor (60) helped put on 109 and finally Brendon McCullum (40) joined him for an unbeaten stand of 118.
He became the third New Zealander to score consecutive one-day international centuries after guiding making 103 not out at Lord's on Friday.
Mark Greatbatch was the first to achieve the feat in May 1990 against England, also within 48 hours. Ross Taylor made one against Zimbabwe in October 2011 and backed it up in July 2012 against the West Indies.
"I've had a lean patch over the last few months even before I was injured [against England in February] so to score back-to-back hundreds is a special feeling," Guptill said.
"I'm also pleased to take the record off Lou [Vincent] who is someone I've played a lot of cricket with. I will give him stick later tonight.
"The wicket was a touch on the slow side but it was still good for batting. When the team scores three century partnerships you know you're going to set yourself up."
Guptill impressed both captains.
"It's a huge credit to him," England skipper Alastair Cook said, as he contemplated making changes to the bowling attack for the final match in Nottingham on Wednesday.
"He made us pay by always finding the right option. If we did get a couple of dots on him, he got a release through fours without too much risk. It was a good pitch to bat on but he earned the right to score freely."
"His batsmanship through the middle stages was most impressive," Brendon McCullum said.
"His innings went up another notch from the Lord's effort, which is a sign of confidence. We all know his striking ability. Couple those two factors together and that is as good an innings in ODIs as you will see for New Zealand."
McCullum also reflected on winning an ODI series which no other side has managed away against England since Australia in September 2009.
"Considering where they are on the rankings [third versus eighth] and in their own conditions it was great to wrap up the series in two games. It shows how good the team can be when we get things in order."
McCullum said while Tim Southee had been rested, there was no place for rotation in the final match.
"A 3-0 result would be as good as it gets. We want to continue building momentum. Our selections will reflect that.
"We're continuing to assess Dan [Vettori] too but that is the luxury of having cover in the squad. We'll know more in 48 hours. Our confidence [of using him in the Champions Trophy] is slowly increasing but I don't want to put extra pressure on him.
"With his record of 272 games he will walk back in when fit and ready. I guess my brother [fellow spinner Nathan] will have something to say about that," McCullum grinned.
"We'll see. There might be an opportunity to play two specialist spinners."
Read more: Guptill hits 189 as NZ thrash England