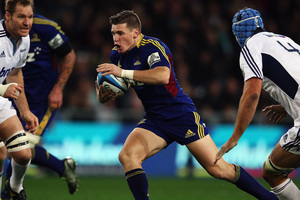 Goodness gracious. Just where did that come from? The woeful Highlanders, who have made losing an art form this season, finally woke from a deep slumber to dispatch the Blues at Forsyth Barr Stadium last night.
Remember this is the Highlanders who have sunk to all sorts of lows this year - the longest losing streak by any New Zealand side in the competition, errors after errors, and seasoned All Blacks playing like third-graders on the back field at the Balclutha showgrounds.
For a team fancied as title contenders at the start of the year, it has truly been a journey from hell for the men from the south. Starting with eight straight losses, and then a three-week winless trip overseas, the Highlanders were on their way to having the worst season ever by a New Zealand side.
They were one win from 12 games going into last night's match against the Blues and a second win looked as likely as a Tiger Woods-Sergio Garcia love-in.
Things were getting so bad that ground members were looking to give their tickets away as the crowd dropped away and a night at the Brass Monkey rally in deepest, dark Central Otago held more appeal for many.
But 15 guys in blue decided to buck the trend as the Highlanders got stuck into their work; the first half was as dominant as they come.
They had the four-try bonus point, their first of the season, just past the half-hour mark. The Blues made nearly 100 tackles in the first half. The Highlanders didn't even make 20. It was that one-sided.
The home side had more than 80 per cent possession in the first half and had the lion's share of territory. For once, they held on to the ball.
This season for the Highlanders has been plagued by poor ball handling. But last night the Highlanders kept the ball to themselves and denied the Blues any chances.
It was richly deserved that fullback Ben Smith bagged two tries - on his 27th birthday - for he has been the best for the Highlanders all season. His penetrating runs, which had come to zip most of the time, were finally rewarded last night and he must surely start in the All Black XV on Saturday against the French. If he is not among the best seven backs in this country then something is seriously wrong.
The much maligned Colin Slade also stepped up with a commanding performance at first five-eighth. He carried hard at the line, kicked well and soared through the air to claim the ball. He looked the player he was two years ago, when he was back-up to Dan Carter.
Up front, Brad Thorn, the aged warrior, was a colossal figure at the breakdown and his locking partner, Josh Bekhuis, had his best game of the season by some distance.