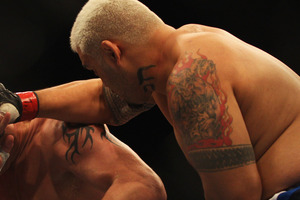 New Zealand mixed martial arts fighters Mark Hunt and James Te Huna were both defeated at UFC 160 in Las Vegas today.
Hunt, who was on a four-fight win streak heading in to the event, was knocked out in the third round by a vicious spinning wheel kick from Brazilian heavyweight Junior dos Santos.
It was only the second time in Hunt's 17-fight MMA career that he had been knocked out and after being floored by dos Santos' kick, he copped a thunderous right hand to the face that sealed his fate.
Hunt was notably slower than the silky dos Santos, who moved around the cage expertly and was active throughout the fight as he took advantage of his superior size and speed.
The 29-year-old rocked Hunt early in the first with a booming overhand right but the South Auckland-born, Sydney-based Hunt got straight back to his feet.
In the second round, Hunt landed a couple of nice shots but dos Santos was clearly ahead on points and cut Hunt's ear.
As the fight moved in to the third and final round, Hunt tried to push as he looked for a killer blow but was unable to find his range and then he was sent to the canvas in dramatic fashion as dos Santos reminded everyone why he is one of the top heavyweights in the UFC.
The 39-year-old Hunt, who is now 4-2 in the UFC, showed his impressive chin again as he took some hefty blows and remains a drawcard for promoters because of his heavy-hitting style.
With his win, dos Santos moved to 16-2 for his career.
Earlier, light heavyweight Te Huna was submitted in the first round by impressive Brazilian Glover Teixeira.
Te Huna, who was a replacement for Ryan Bader, fell victim to Teixeira's impressive ground game and wrestling ability and the fight was over in the third minute when Teixeira locked in a guillotine choke.
The victory was Teixeira's 19th win in a row as he improved to 4-0 in the UFC, while the 31-year-old Te Huna fell to 5-2 in his UFC career.
In the main event, Cain Velasquez defeated Brazilian Antonio Silva by TKO in the first round to retain his heavyweight world title.
- APNZ