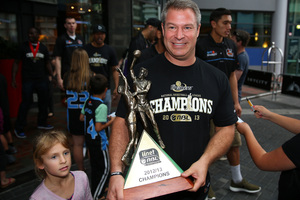 Twitter in sport is generally seen as an athlete's game but one coach bucking that trend is Dean Vickerman.
Installed as Andrej Lemanis' replacement at the three-time champion New Zealand Breakers, Vickerman will next season become the only top-level club coach in this country to also be an active user of the site.
He's kept a relatively low profile since joining last year, acquiring 400 followers while working as Lemanis' assistant, but Vickerman could find himself in the social media spotlight the first time the Breakers lose two games in a row.
He's prepared for that possibility, even welcoming the chance to hear directly from the fans.
"People are going to say what they say anyway, so you've just got to deal with it," he says of any potential Twitter criticism. "And I quite like hearing a fan's view of a game."
Vickerman was encouraged into Twitter by his agent, who extolled the benefits of building an online profile.
One benefit became immediately obvious, with Vickerman using his social media presence in his presentation when applying for the Breakers job.
"I said it was something that we needed to make sure we really educated our players on," Vickerman says. "We need to show the examples of what's happened in Australia in other sports, where if you talk about a player on your team or another team, the ramifications that can happen."
He said Dillon Boucher would get involved with players helping to promote the club and sponsors.
"We'll use it to the club's advantage and we'll make sure we'll educate on what's appropriate."
A good portion of Vickerman's 200 tweets to date have been interacting with fans and players while watching NBA games, but he has some idea of how his Twitter practices may change now he's in the hot seat.
"I've watched [Sydney Kings coach] Shane Heal, he's quite active on it and has used it well. He's always been encouraging to his team and given messages to the fans about how the team is going."
But if the team begins going poorly, an unforgiving public may demonstrate to Vickerman why his coaching cohorts have largely steered clear of the site.