Rugby may have a new superpower within the next five to 10 years.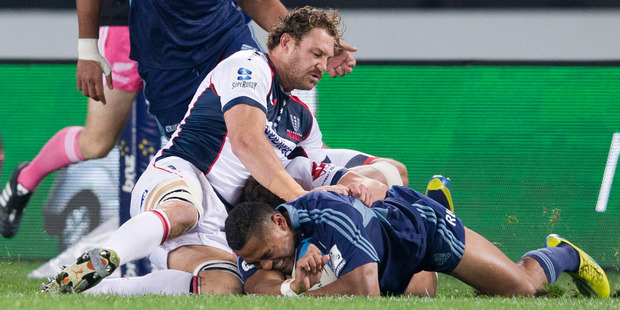 Australian rugby is the winner so far this year, even if it doesn't go on to win the Super 15 title.
The performance of their bottom feeders is so encouraging that Australia might have negotiated a crossroads and be off towards rich green and gold pastures and becoming rugby's No 1 superpower within the next five to 10 years.
People will laugh at that, and on recent transtasman results a decent giggle is in order. But don't laugh too loudly. Not only are Australian sides playing with an intelligence, confidence and cohesiveness lacking in four of the New Zealand teams, but the crucial power/strength factor is starting to ramp up across the ditch.
The undermanned Western Force and Melbourne Rebels have defied predictions with a series of credible performances, even if their win columns aren't great. Both were dog tucker going into the season, yet have revealed a bark that will give Australian rugby more bite.
In contrast, there is mild panic in the New Zealand rugby ranks - or there should be. The Highlanders are an embarrassment, and the others aren't playing well. The best bet, the Crusaders, are short on power to match their mantra of precision.
Sir John Kirwan and Sir Graham Henry's Blues revolution is fading already, whereas Damien Hill and Michael Foley are working near miracles in the union outposts and AFL strongholds of Melbourne and Perth.
The Brumbies are hardly stacked with world-class ability, but Jake White has them on a solid path near the top. The Waratahs and Israel Folau are stirring, and the Reds have a strong base of players and technique in their squad.
The Rebels unveiled this Aussie spring-in-the-step against the Blues this weekend, as did the Force in taking the champion Chiefs to the wire. Facing a huge halftime deficit, and without their two world-class backs Kurtley Beale and James O'Connor, the Rebels were led superbly by Scott Higginbotham in a second-half revival that included crunching the Blues scrum and smashing them through the middle.
The atmosphere out of the over-sized Eden Park was depressing. Empty seats abound in our rugby.
In a desperate battle with other codes, and unencumbered by so many New Zealand-type hang-ups, Australian rugby gets players from anywhere, including league ranks and New Zealand.
In Australia's fully professional environment, the demarcation between codes has been broken down by career imperatives for young players, so rugby will no longer be hampered so much by the posh factor.
The demographics of Australian rugby are changing, with more powerful Polynesian players working their way to the top. Migration out of New Zealand is further building a base of young Polynesian players around Australia.
A friend in Australia suggested that New Zealand rugby will be shocked at what starts to come back at it in Wallaby jerseys over the next decade.
Meanwhile, Jerome Kaino, Richard Kahui, Tamati Ellison and co keep revealing that while the All Blacks jersey is still a holy grail, this is as much for professional reasons as traditional ones. The arrogant, elitist treatment of Richie McCaw and other superstar All Blacks is an insult to the rank and file and indicates a central administration devoid of genuine policies. The continual complaints about tired players is utterly tiresome.
Here's another scenario relayed to me recently: a young provincial player has approached his major union, seeking to be aligned to Tonga rather than the All Blacks. Aware of the players ahead of him and the history of Pasifika players being left on the international sidelines after minuscule All Black careers, he wants to represent another side of his heritage. This will increase his value to European clubs, a major aim.
The rise of Tonga and Samoa in particular, aided by fairplay World Cup match schedules, will create interesting new dynamics. Meanwhile, an overweight New Zealand administration tinkers and tampers.
The latest potential rule is from a bureaucratic nightmare. It aims to ensure juniors get mandatory game time, the NZRU's response to fading participation.
It comes from a desperate, control-freak administration weighing the sport down through ineptitude and self-importance.
Debate on this article is now closed. Readers are reminded that comments must contain language that is suitable for publication and should not contain insults.