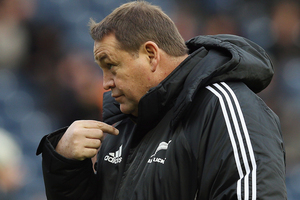 Rugby coaches are a bit like spies - they don't believe in coincidence - which is why Steve Hansen is convinced the accelerating exodus of talent is directly linked to growing fears among players here that the brutality of the season is killing them.
The game in New Zealand, Hansen says, has gone beyond breaking point and he fears many senior players have had enough: that they are willing to chuck in their All Black jerseys because they can't cope with the excessive physical and mental demands.
The overwhelming feedback from those players who are quitting New Zealand - and even those who are not - is that the pre-season is dangerously short, the travel burden is too high and too many players are required to play too much rugby.
Tamati Ellison's decision to quit - knowing that he was an integral part of the All Blacks longer term thinking - is indicative of how many players feel: they worry they will be damaged by playing here and question what staying would do for their longevity.
Unless there is dramatic change New Zealand will continue to see many of its best players - even those who are virtual test certainties and at the forefront of World Cup plans - leave for the softer, richer market of Japan.
Hansen is by no means a lone voice on this issue and has ample support from fellow coaches, players and administrators here and around the world who endorse his belief that the IRB can no longer stall, fudge or refuse to look at implementing a global season.
The theme of playing too much and the season being too long has been prominent since 2000. But given the number of players who are packing up and escaping to Japan, it is now an issue that can't be ignored. There is irrefutable evidence it is damaging the game here.
Previous attempts to unite the hemispheres have failed, with the governing body saying it was too hard to make change as too many sponsorship and broadcast deals were locked into long-term deals.
"It's the old chestnut," says Hansen. "This [fixing the problem] is about the IRB coming up with a global season. I know that we are tied into competitions with our Sanzar partners who don't always feel the same way about certain problems as we do. But we need to have a 16-week mandatory window between seasons. If you look at the NFL and the NRL, the two comparable competitions in terms of physical impact, they both have that.
"We get that in World Cup years because the tournament finishes in October. And I wouldn't mind looking at the statistics around injuries in the year after the World Cup. I would bet they are lower than other years because we get that 16-week window."
There have been gripes this year about a number of leading All Blacks having been in relatively poor form to date. Hansen argues that it is almost inevitable as many of them have been asked to squeeze their pre-season rest and conditioning into four or five weeks.
Some of the more experienced players have been enduring this pattern for the better part of a decade and the likes of Ellison, Richard Kahui and Anthony Boric have all decided their bodies have had enough. The incredible salaries on offer in Japan have been a factor in them leaving, but just as important has been the desire to escape the relentless brutality and the insatiable physical demands.
The departures of Ellison, Kahui and Rene Ranger, who is heading to Montpellier, will leave the All Blacks light on midfield resource this year, but Hansen is confident that new faces will emerge in 2013.
"We know Ma'a's [Nonu] knee will come right in time to play France," he says. "We are not sure where Conrad [Smith] is at and we won't be putting any pressure on him to play until he is ready.
"Richard [Kahui] probably would have played wing for us so the injury situation is what it is. We will be looking for some fresh blood and that is hugely exciting for those guys who want to play at this level."