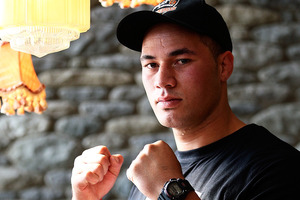 Las Vegas-domiciled Kiwi boxer Brice Ritani-Coe is set to be confirmed as Joseph Parker's opponent for a tune-up fight ahead of his bout with Francois Botha in Auckland on June 13.
It's understood Ritani-Coe will sign a contract this week for a six-round fight that is scheduled to take place in California on May 17.
Heavyweight Ritani-Coe has been based in the US for some time with all of his five fights there since 2009.
At 1.88m and 124kgs, Ritani-Coe will mimic Botha nicely and should serve as a good workout for Parker, currently in Las Vegas on a two-month training camp ahead of the biggest test of his short career.
Parker (4-0) has been working with New Zealand trainer Kevin Barry ahead of the fight with Botha, the 1.88m and 118kg veteran South African who has fought 61 pro bouts in a lengthy career.
Parker's career has been carefully managed to date with all of his victories coming via knockout in the early rounds but Botha represents a big step up in class.
Despite being 44, the man who calls himself the `White Buffalo' has jumped in the ring with the best of them - including current or former world champions Wladimir Klitschko, Lennox Lewis and Mike Tyson.
He most recently fought in February when he lost a unanimous points decision to Sonny Bill Williams.
That controversial loss and the ensuing accusations regarding failed drug tests, bribes and confusion around the number of rounds in the fight have made the big-talking South African well-known to the New Zealand public.
Since the announcement that Parker would meet Botha, former backer Sir Bob Jones has pulled his support for Parker and has been critical of the bout.
Parker's trainer Barry told the Herald on Sunday last week that the warm-up fight ``will give me a chance to study Joseph before the fight, on the day of the fight, to see his demeanour in the dressing room, how he handles things, and whether he listens to me and how he reacts to me in the corner _ all very important things to know. You don't want to leave things to chance until he fights Botha.
"We are expecting Botha, with all of his experience, to try and tie Joseph up - so we are looking for an opponent who will do the same kind of thing.''
Ritani-Coe sports a 3-1-1 record and has a strong background in MMA where he is 5-1.
The 27-year-old from Queenstown is big, can take a punch and it is understood he has also recently been sparring with legendary Kiwi brawler Ray Sefo.
Ritani-Coe last fought in November when he was beaten in a unanimous decision by undefeated American Jerry Forrest at the Hilton Towers Hotel in Washington.
- APNZ