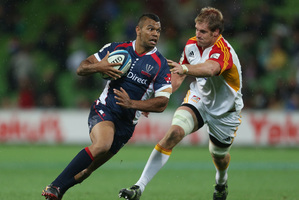 Five points safely in the bag and yet the Chiefs left Melbourne with questions unanswered about their defence and a sense of confusion about the TMO rulings.
On a night when their primary goal was to restore their blanket defence, the Chiefs leaked five tries. They might feel that the first they conceded (which allowed the Rebels to cling on at a time when they were seriously under threat) was a contender for an end-of-season bloopers reel.
The final pass to Scott Higginbotham must have travelled close to five metres forward yet, after a long inspection, TMO Steve Leszczynski couldn't be sure he'd seen definitive evidence of a forward pass.
The five steps forward Higginbotham took to catch Tom English's 'bomb' pass might have been a clue - but the score stood.
The Chiefs were on the receiving end of another tough call by the TMO when Gareth Anscombe appeared to score a legitimate fourth try, only for the ruling to be made that Patrick Osborne had knocked-on in the build-up.
All the usual noises will be made about having to take the rough with the smooth, about taking these things on the chin. But now, given that the Chiefs won, would be an appropriate time for some comment to be made.
The Chiefs were the architects of most of their own problems. They didn't push up hard enough on the outside when they were defending, fell off one-on-one tackles and lacked urgency and intensity.
But obviously bad calls from the TMO didn't help and there is a growing sense this year that too regularly officials are making glaring mistakes.
Sanzar can be rather sanctimonious about direct criticism of officials - seeing it as a no-go area for players and coaches.
It does the game little good, however, to see outrageously bad calls made without sanction or acknowledgment.
The intervention of technology and the extended powers of the TMO have been largely well-received this year.
Players, coaches and fans can accept that there will be delays to ensure the right decision is made.
But the system still needs accurate and sensible officiating and, frankly, daft calls like the one made in regard to the Rebels' opening try provide ammunition for minority cynics to say the trial laws are not working.
As much as the Chiefs need to fix their defence, Sanzar needs to take a stand - acknowledge the mistakes and vow to improve.