Six ex-players have the credentials to go in to bat for their current counterparts, writes Andrew Alderson.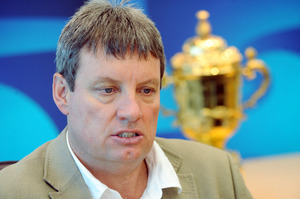 With relations strained between John Parker's movement for change and New Zealand Cricket's current administration, middle ground is required to govern cricket productively and constructively.
Regardless of constitutional changes, former players appear guaranteed spots on the board. If that occurs, Parker will have achieved a key objective in what, at times, has been an awkward putsch. But who should those ex-players be? Six contenders seem capable of straddling the divide.
Geoff Allott
Age: 41
Playing credentials: 10 tests, 31 ODIs
Other credentials: NZC general manager 2008-10, co-founded Face Finance Ltd in 2004, which dealt in commercial plant and equipment finance. Some feel Allott's two-year stint with NZC ended prematurely when he opted to leave over the direction of high performance. His NZC role also oversaw operations, coaching, selectors, team support staff and management.
Currently chief executive of QualityNZ, an export business to India (which includes Stephen Fleming and Brendon McCullum as shareholders). A left-arm pace bowler, Allott starred at the 1999 World Cup, taking 20 wickets in nine matches, a then-competition record which he shared with Shane Warne.
Availability: Maybe in the future, depending on his new business commitments.
Jeff Crowe
Age: 54
Playing credentials: 39 tests, 75 ODIs
Other credentials: New Zealand team manager 1999-2003, International Cricket Council match referee 2004-present, used to run a corporate golfing holiday company in the United States. Crowe lives in Florida but as a former test captain with a corporate, match referee and cricket management background, he could add a practical element to the board. The ICC holds Crowe in such esteem, he has refereed the last two World Cup finals (and took the rap admirably in 2007 when admitting his mistake as the match petered out in bad light at Barbados). Known as Chopper because of a penchant for rolling his sleeves up like a woodchopper, Crowe is respected as a referee and an expert 'people-person' manager.
Availability: Interested but living in the US probably rules him out.
Bruce Edgar
Age: 56
Playing credentials: 39 tests, 64 ODIs
Other credentials: Specialist batting coach with Cricket New South Wales and a couple of district sides, he has run Bruce Edgar Consulting for over four years after years of experience in the financial services industry. As far as consensus characters go, it's hard to look past Edgar, whose most aggressive on-field act was to give the Chappell brothers the fingers through sausage batting gloves after making a century in the 1981 underarm match. Edgar's people skills could bridge the generation gap. Contrasting examples include being best man at childhood mate Ian Smith's wedding and being held in high enough regard to present The Players Association Players' Cap to Tim Southee in March. Based in Sydney for more than eight years.
Availability: Interested and available.
John F Reid
Age: 57
Playing credentials: 19 tests, 25 ODIs
Other credentials: former CEO Auckland Cricket, NZC operations manager 1996-2005, with Sport New Zealand until September, now contracts to SNZ via a talent development project. Reid has the highest New Zealand test average (46.28) and best 50:100 conversion rate (75 per cent) for those to have played over 20 innings. More relevant is his contribution to cricket and general sport over the past generation. Originally a geography teacher, Reid must challenge any former player for time spent at the administrative coalface through roles in operations, grassroots sport and talent identification. He was even the interim New Zealand coach after Geoff Howarth's departure at the end of the abysmal 1994-95 centenary summer. There must be a temptation to harness such experience.
Availability: Unknown, as he could not be contacted.
Martin Snedden
Age: 54
Playing credentials: 25 tests, 93 ODIs
Other credentials: New Zealand Cricket CEO 2001-07, Rugby World Cup 2011 CEO, Tourism Industry Association New Zealand CEO. Snedden's name is pulsing in neon lights. Maybe he is NZC's Bob the Builder: "Can he fix it? Yes he can." Immersed in his current role, he is certainly an option for the future. Respected as a player and administrator, Snedden, as NZC CEO, negotiated countless conflicts such as the 2002 Pakistan bombing, 2002 players' strike, 2003 World Cup boycott in Kenya and 2005 Zimbabwe ban, without compromising his integrity. Subsequent World Cup actions sorting out his "stadium of four million" and a move into the tourism industry make him a prime candidate.
Availability: "Not before 2015."
David Trist
Age: 65
Playing credentials: Three New Zealand first-class matches (on 1969-70 tour of India and Pakistan)
Other credentials: New Zealand coach 1999-2001, has also coached and nurtured the game in India, South Africa, England and the Netherlands for more than 40 years. Trist is one of the country's pre-eminent analysts. It's impossible to exit a Trist conversation without observing the game from a different angle. He took New Zealand to their first one-day tournament win (the ICC knockout trophy in Nairobi 2000), coached South Africa's Eastern Province to the Currie Cup in the 1980s and has dedicated countless hours to helping cricket in Pune, India, which modesty prevents him discussing in detail. Such expertise could surely translate to governance of the game at international level. Not a man who conforms to suit-and-tie boardroom convention but could fill the role anyway.
Availability: Unavailable due to personal reasons and interests outside cricket.