Sport can make all our communities better - but it takes all of us to lead the way. The Herald on Sunday's new Sideline Champs campaign calls on supporters to set an example of fair play for the kids, and to give the cold shoulder to abuse and bad sports.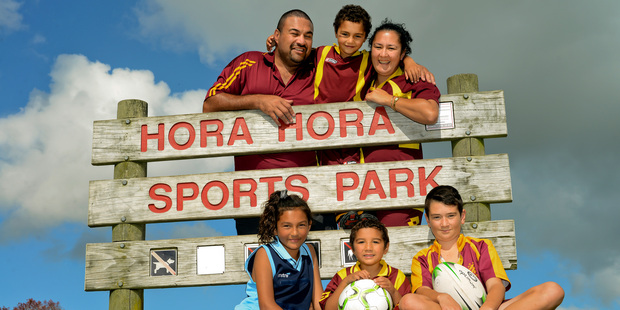 With four sporty kids to organise, Rachel Beckham's busy Saturdays are already stressful enough.
The Whangarei mum has coached junior soccer for the past eight years. Two of her young sons play football while the eldest boy enjoys rugby at the Hora Hora sports club. Her 11-year-old daughter plays school netball.
Beckham is fed up with abusive parents shouting the odds on match days so she takes her 190cm rugby coach partner Jason Parangi along to act as a sideline enforcer.
"I've seen coaches at kids' games abusing the crap out of the referee, parents screaming at their children that they are not hard or fast enough and spectators running on to the pitch causing havoc," she says.
"I am not a confrontational person so when I'm coaching I prefer Jason to be there, to tell them to calm down for me.
"People listen to him because of his size but it is sad things have got to that stage.
The whole scene is now too competitive and at times the behaviour of some parents is out of hand. It is the kids that suffer."
For more than eight years, the Herald on Sunday has reported bad behaviour on Saturday sports fields, courts and sidelines.
Four Auckland Grammar and five Kelston Boys' players were banned in 2009 after scores of spectators waded into an on-field brawl between the boys; police were called after a referee was punched in the face, allegedly by a spectator, at a rugby final between Auckland Grammar and De La Salle College last August; in June, two Porirua men attacked supporters and the coach of the opposing team at an under-11 game; the previous month a parent grabbed the ref's throat at an under-10s match in Papatoetoe; in 2011, five Otahuhu Rugby Club players were banned for life after assaulting a whistler at the conclusion of an under-19s match, Hawke's Bay Magpies mascot Kahu the Magpie kneed her Bay of Plenty Steamers counterpart Hori in the groin in an ugly sideline clash.
The list goes on ...
And those are just from the nation's rugby fields - never mind the clashes on the league and football fields, the netball and basketball courts.
That is why this newspaper is launching a campaign called Sideline Champs to support good behaviour on our nation's sports fields and courts this winter.
We will work with winter sports codes to support and build on their fair play work.
The goal of Sideline Champs is to inspire and educate sports participants and supporters to celebrate good play and hard play, setting an example of sporting behaviour that encourages or shames bad sports into improving their behaviour.
It doesn't take much to make a difference.
One club successful at cleaning up its act is Gisborne Pirates RFC.
Since introducing a ban on drinking and smoking on the sidelines a few years back, its fortunes have been dramatically transformed.
President Pat Makiri says once the match day boozing among supporters stopped, the league club - which has seven junior teams - went from being whipping boys to a respected outfit with almost 300 members.
"We started tidying up the sidelines by dismantling the culture of people drinking at the games, which is something we used to be quite experienced at," Makiri says. "This has not only created a safer and healthier environment for our kids but we are now attracting good people to the club who are bringing good behaviour with them.
"No one is disrespectful or abusive and the swearing on the sidelines has stopped. Another bonus is the improved behaviour has brought us long-term sponsorship. We decided prevention is a lot better than trying to deal with drunken trouble after it happens."
In Auckland, parents and supporters are being wooed with coffee, distributed by school students on the sidelines. More than 100 secondary schools participate in a scheme to receive free thermos flasks, organised by College Sport Auckland and the ASB.
Other winning initiatives include dispensing free tape to cordon off school sports fields and venues from spectators and beefing up security for large traditional fixtures or play-off matches.
"All these measures help tone down the interaction between supporters because some people who are usually perfectly ordinary parents can turn a bit Jekyll-and-Hyde come a Saturday," Jacqui Nassau, operations manager at College Sport Auckland explains.
"I have heard some pretty extreme stuff, including one parent who tried to run down a basketball referee in a school carpark after a match two years ago. We have to get a consistent message across that bad behaviour is not acceptable."
Although rugby, league and soccer lead the way when it comes to sideline trouble, netball and basketball are not immune.
Dunedin Netball Centre - used by about 310 teams - has introduced a "thumbs up" box to encourage people to nominate players, coaches and supporters for good behaviour. Winners get vouchers for free match tickets, pizza and fruit.
Despite this, operations manager Noeline Burden still has to deal with poor attitudes.
"I occasionally offer a whistle over the loud speaker to the vocal 'umpires' standing on the sideline," she says. "This seems to do the trick ... and this is at primary school level."
In Invercargill, the Southland Basketball Association teamed up with a local family violence group to spread the word that any form of physical and verbal abuse is not on.
"Even at national league level referees have been approached by members of the crowd and abused," the southern association's general manager, Jill Bolger, says. "We have also had to approach some unruly parents on the sidelines and have them removed. Fortunately this is a rare occurrence."
In Hamilton, sports coordinator Robyn Polley goes undercover at football and netball games to weed out troublemakers.
"I go along looking like any other parent and I know in advance who I am targeting," Polley says. "One of the worst examples was at a Year 9 Saturday netball match when a dad was telling his kid to punch another girl in the face to put her out of the game. When I pulled him up about it he told me to "get lost" in no uncertain terms."
If present levels of bad sideline behaviour continues, kids will desert playing sport in their droves, according to Simon Walters, senior lecturer at the School of Sport and Recreation at AUT University.
"Many sports are becoming too intense, too early," he says "Youngsters are being treated like professionals and the expectations of parents and some coaches are often too high, leading to problems on the sidelines.
"We need a much less competitive and a more developmental approach because now we have five-year-olds taking part in organised competitions and leagues instead of just going out there to enjoy themselves.
"This can take the fun out of sport and by the time they are in their late teens, they are sick of it. It is bit like having athlete burn-out."
Walters adds: "We have lost perspective and could lose a lot of good players as a result. There is too much pressure on kids to win at any cost and things will only get worse if we don't keep on seeking the right solutions."