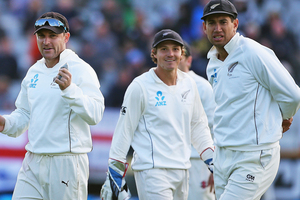 Brendon McCullum and Ross Taylor have both been released early by their Indian Premier League sides to join the Black Caps in England.
McCullum will arrive in Derby later tomorrow ahead of the side's opening tour match against Derbyshire while Taylor is expected to join the team over the weekend. Both of their IPL sides are unlikely to reach the tournament semifinals.
The Black Caps skipper has played just one match for the seventh placed Kolkata Knight Riders, making six with the bat in a defeat to the Super Kings last week.
Taylor has meanwhile made five appearances for the Pune Warriors, who currently sit in last place, averaging just 12.60 with a high score of 19.
- nzherald.co.nz