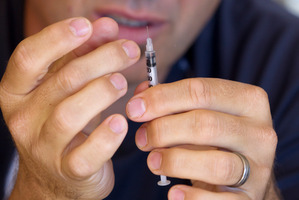 Not here, not us, no way, no comment - that sums up the reaction of New Zealand's major sports bodies to suggestions new generation performance-enhancing drugs are being used by elite athletes in this country.
A soon-to-be published study by the World Anti Doping Authority will estimate that up to 10 per cent of elite athletes dope. According to this country's sports bodies, the figure here is closer to zero.
A report prepared by DFSNZ, High Performance Sport New Zealand and Sport New Zealand for Sports Minister Murray McCully canvassed athletes, officials and medical staff at professional sports entities. None felt there was an issue similar to that unearthed by the Australian Crime Commission earlier this year.
Figures obtained by the Herald under the Official Information Act show border seizures of banned peptides increased last year from 10 to 34.
An internal Ministry of Health memo circulated in February stated: "The increase in detection of these substances at the border is indicative of an increasing number of people using them."
Peptides are popular with body builders and are also used as anti-ageing treatments, so there is no guarantee the drugs are being used by elite athletes. There is also no proof they aren't.
High Performance Sport New Zealand, the body responsible for New Zealand's elite athletes, declined to be interviewed. Its chief executive, former champion swimmer Alex Baumann, did supply a brief statement.
"Our elite athletes have a strong international reputation for being clean, and for good reason," it said. "There is nothing in [the Herald's] investigation to suggest otherwise."
New Zealand Rugby Union medical director Dr Ian Murphy also responded to questions via a statement.
"We do not believe there is a widespread problem with rugby players taking banned substances, including peptides," it said.
However, he said there was no room for complacency and each year it carries out an extra 70 tests of players - costing $100,000 a year - above what DFSNZ does. Further testing is also carried out by the IRB.
DFSNZ carries out about 1300-1400 tests a year on the nation's athletes. In 2009/10, the last year for which statistics are freely available, problems were found with just eight of 1343 samples.
The organisation concedes testing is not always effective. Two years ago it shifted its focus to include an "intelligence-based approach" to catching drug cheats, operations manager Scott Tibbutt said.
New Zealand Rugby League chief executive Phil Holden was concerned by the apparent ease with which peptides could be imported and believed sub-elite athletes looking to break through into the professional ranks were most at risk.
New Zealand Football chief executive Grant McKavanagh didn't believe peptide use was an issue in the sport. No New Zealand soccer player had ever failed a doping test.
Law doing double duty
The Medicines Act of 1981 is the only real tool this country has for dealing with the importation and use of performance and image-enhancing drugs (PIEDs).
The fluctuating legal status of several new-generation peptides, including GHRP-6, which is now scheduled, highlights the difficulties with interpretation and enforcement of the act.
"We are using the tools that we've got," said Medsafe's group manager, Stuart Jessamine.
"It's not an ideal fit, it's not the primary purpose of the legislation, but there is enough of an overlap ... internationally it is the best model. Otherwise you end up having to create legislation just for sports drug abuse. The more bits of legislation you have, the harder it is to keep them in line."
A big difficulty is finding a way to schedule drugs the Government wants to ban without infringing on others. If a classification is too broad, it captures products it wasn't intended to. If it is too narrow, producers of illicit substances need only make a slight change to the chemical make-up to subvert the act.
Between 10,000 and 12,000 packages are referred to Medsafe each year. Last year 179 consignments of PIEDs were seized. The great unknown is how many progress unflagged.
"We don't know how leaky the whole system is," Dr Jessamine said.