Admitting to homosexuality is a brave step - a wonderful move to change how we think - but it's not a giant leap.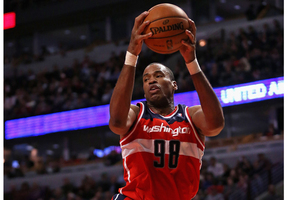 Jason Collins, an NBA basketball player, didn't only come out as gay. He also confirmed that he was black.
In two short sentences, Collins took a small step forward for mankind and indicated why it can't be regarded as a leap.
"I'm black. And I'm gay," he said, as if people hadn't already known one of those things.
It's been 66 years since Jackie Robinson became, famously, the first black player to break the colour bar in America's professional baseball leagues, a culturally historic moment - according to the rhetoric - yet inspired by the Brooklyn Dodgers' desire to win and make money.
And yet Collins still feels the need to make a statement about black pride to go along with his gay pride.
Black people are not exactly uncommon in America. They are not exactly uncommon in professional sport either. Black is beautiful, but it is still not normal, apparently.
America operated racially segregated baseball for 60-odd years, although almost certainly not strictly so, not with the way the tobacco and cotton farmers used to bandy their seed about in the slavery days.
Indeed, the greatest baseballer of them all, Babe Ruth, may have had African-American lineage, a possibility that some opponents used as a sledging weapon.
Moving on, and it clearly takes time for us to move on, no matter what the spin that flies out of America over the Collins legacy.
Already, columnists have lauded this as an American history moment, but America is always telling tales about itself.
Our personalities and beliefs run deep, the complicated product of nature and nurture developed over time. Sexuality is a matter of particular sensitivity and the various degrees of homophobia can't be turned off like a light switch.
As Collins' words suggested, we're not even racially sorted yet long after Robinson's groundbreaking life.
As other American sportsmen have indicated, homosexuality is not fully accepted in the locker room and more liberal ground is just as barren.
Hollywood - the nearest thing in America to the land of free thinking - will no doubt get in on this act, yet it has actors aplenty who feel they must continue to lie about their sexual preferences.
There is a lot of fanfare around Collins' stand, and fair enough. He is, we are told, the first professional American sportsman to reveal he is gay. Very few other professional sportsmen anywhere have taken the plunge - which says a lot about the degree of difficulty involved.
His is a brave move, a wonderful move, and one that might play a small part in a gradual change in the environment that will in turn change how we think. But this is only a very small step in the real world, and America's overwhelming religious bent struggles to accommodate anything it doesn't see as straight.
Living a sexual lie must be a painful journey, but plenty will keep travelling that road. Most gay, professional sportsmen will remain in the closet. That's their right, sexuality is a private matter, and they know their lives will be easier if they keep it that way.
Grand statements are the easy part, and they come thick and fast these days. Really changing lives - dealing with poverty, inequality, injustice - usually lands somewhere between difficult and impossible.
As for a true leap - how about an openly gay presidential candidate? That would put the self-styled moral majority through the hoop.
Debate on this article is now closed.