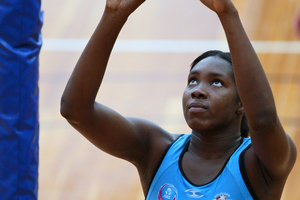 Q. What was your first impression of Invercargill?
That it's a nice small close-knit community that really supports and gets behind its netball team. It has completely lived up to my expectations.
Q. What was the first thing you bought when you arrived?
One of those really thick jackets, what do you call them? Puffer jackets?
Q. What size shoe do you wear?
13.
Q. What do you miss most about Jamaica?
The food. Oh no sorry, it's my family. I'm just really hungry right now so that was the first thing that popped into my head. But I really miss my family - especially my daughter [Drehamnah, 3]. Thank goodness for Skype, I spend lots of hours talking to my family on there.
Q. Did you consider bringing your daughter with you?
It wasn't really an option for me to bring her as it is my first time here and I wasn't sure how things would work so I thought it was best that she stayed with her Dad, because he has a lot of family that can help him out. But if I'm back next year I'm not going to leave her - she has to come with me.
Q. What has been the hardest thing to adjust to about playing in a professional netball league?
Honestly nothing has been hard for me to adjust to because I had an open mind when I came here to expect anything, and also my teammates and coach have been really good at helping me out with everything, so nothing has been hard.
Q. You're topping the scoring in the ANZ Championship; are you having a competition with [fellow Jamaican shooter] Romelda Aiken to see who can score the most goals this season?
Maybe we haven't said it out loud to each other, but I think we are. She is my very good friend so it is a fun competition.
Q. Do you hope to keep playing in the ANZ Championship or is this season a one-off for you?
I really do hope to continue playing down here, it is such a great experience for me and I've learned so much already so I would love to come back again. It's not a one-off for me.
Q. I hear they're letting you loose on New Zealand roads - how do you enjoy the road trips to Dunedin for trainings?
It's lots of fun, I love seeing all the countryside. It reminds me a little bit of home. Where I live back in Jamaica [St Thomas] is more of a country area, there are lots of trees and animals and birds.
Q. Aside from seeing your family, what are you most looking forward to when you get back to Jamaica?
The food, definitely. I really miss the food.
Q. What's your favourite meal?
Cowfoot and rice.
Q. Um, can't say I've tried it, what is it like?
It's like the foot of a cow stewed with broadbeans and rice, it's really good. It goes all gooey ... it's quite a traditional Jamaican meal.