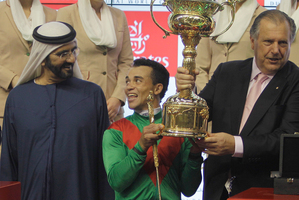 A hearing into the most serious doping scandal to hit British racing in recent memory could take place as early as tomorrow.
Newmarket-based trainer Mahmood Al Zarooni admitted on Tuesday he had administered anabolic steroids to 11 horses owned by Sheikh Mohammed, the ruler of Dubai and head of the vast Godolphin racing empire.
Sheikh Mohammed, who has regularly accompanied The Queen at Royal Ascot, said he was appalled to discover the extent of the use of outlawed drugs and Godolphin and the British Horseracing Authority appear keen for the case to be resolved quickly. The BHA will issue formal charges today.
The 11 horses, including the unbeaten filly Certify who had been strongly fancied to win the Qipco 1000 Guineas at Newmarket on May 5, have been banned from racing, and it has emerged that Al Zarooni, who trains more than 150 of the Sheikh's horses, will not have any runners before his case is heard.
A source close to Godolphin hinted that they would not send any horse trained by Al Zarooni to the races until he had faced the authorities.
The 11 positive tests were taken by BHA officials who visited Al Zarooni's yard specifically because two horses he trained had tested positive for banned substances during 2012. Al Zarooni was fined £2000 ($3600) last August for those offences; he now faces a life ban from the sport in Britain.
BHA drug testers make around 700 stable visits a year, prompted either by intelligence or previous breaches, as in Al Zarooni's case. In addition, roughly 7000 horses are tested on racedays.
Steroids are generally used to strengthen a horse but the Rules of Racing prohibit them from being used on a horse in training. Al Zarooni said on Tuesday that he was unaware that he had breached the rules.
Al Zarooni runs one of two stables near Newmarket at which Sheikh Mohammed's horses are trained. The BHA said it had no plans to test horses at the other Godolphin stables where Saeed Bin Suroor is trainer.
"They are separate trainers," said BHA spokesman Robin Mousey, "and we wouldn't link them because of a common owner as a result of this. It doesn't however rule it out though. We reserve the right to test any trainer's horses at any time."
The Godolphin drugs case has come as the biggest shock in British racing in years. Considering Godolphin's clean image and global reputation for excellence, nothing could be more surprising than to see the stable caught up in such a scandal.
For Sheikh Mohammed it is an acute embarrassment. Only recently he withdrew his support of the Breeders' Cup organisation over their refusal to crack down on the use of the drug Lasix; Darley director Ollie Tait resigned from the Breeders' Cup board as a consequence.
It appears that none of the 11 horses found to have been administered drugs had been in Dubai over the winter. They had been residing in Britain.
- Telegraph Group Ltd