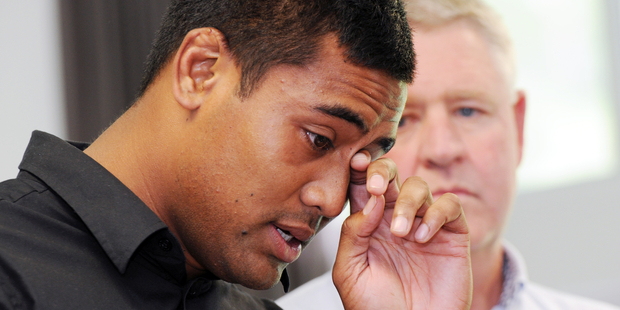 Athletes need to take more responsibility for sending clear anti-violence messages to help reduce the country's growing levels of domestic abuse, says the head of Women's Refuge.
Hurricanes and All Blacks wing Julian Savea today apologised to his partner and her family after it was revealed he had been charged with assault.
The 22-year-old addressed the allegations at a press conference today ahead of his appearance at Wellington District Court tomorrow.
The player, who made his provincial debut for Wellington in 2010 and first played for the Hurricanes in 2011, appeared on posters last year as part of the "It's Not OK" campaign against family violence.
Women's Refuge chief executive Heather Henare said Savea had been a role model through his sport and the anti-violence campaign and such allegations drew a lot of attention because of their high profile nature.
"The sports community has a responsibility in sending some really clear messages there," she said.
Refuges around the country were seeing increased levels of violence of a more intense nature, said Ms Henare.
"They're seeing more brutality and women very fearful of asking for help because of the consequences of that. We're concerned about that trend."
Savea sobbed as he read a statement today, apologising for his actions.
"I did some things that are wrong and that I shouldn't have done and I apologise for that.
"To my partner and her family I just want to say that I'm sorry to hurt someone that you love and care so much for. To be in this situation, I know it's hurting them and it's definitely hurting me, so I apologise to them," he said.
In spite of rugby authorities knowing about the incident a day after it allegedly occurred, Savea was allowed to play on Friday against the Western Force, is expected to be at Hurricanes training this week and to be picked to go to South Africa next weekend.
"What the powers that be have said there is there are going to be no consequences ... I don't think that's the right move. I don't think that sends a message at all," said Ms Henare.
However, she praised Savea for fronting up over the allegations.
"The fact that he's come out, he's apologised to his partner, he's apologised to his family, he's taken responsibility, that's a good thing."
New Zealand Rugby Union chief executive Steve Tew said the organisation would be assessing how it supported it's players, as there had been a number of instances in the past year, all involving younger players.
The Ministry of Social Development, which ran the It's Not OK campaign against family violence, declined to comment on the allegations before Savea's court appearance.
- APNZ