Coach expecting improvement for tomorrow's match.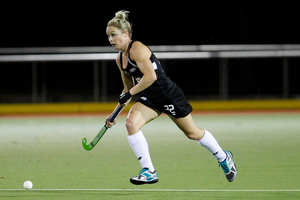 New Zealand had one of those "take the win and move on" nights in Hamilton last night.
Their squeaky win over the United States left them joint top of the Four Nations table after two of the three rounds, level with world No 2 Argentina, who comfortably saw off Korea in the early game.
Who plays off for first and second on Sunday will be decided in Tauranga tomorrow. A draw against the eighth-ranked Koreans will be enough to get world No 3 New Zealand into a position to follow last weekend's victory in Whangarei.
But after last night, best hold all tickets on that. They will need to pick their game up significantly after a performance against the world's 10th-ranked team which left coach Mark Hager distinctly underwhelmed last night.
The Black Sticks won their meeting in Whangarei 5-0; last night was a very different story, the only goal coming from 19-year-old Michaela Curtis, in her seventh international, early in the first half, after good leadup work from fellow striker Katie Glynn.
"We were probably lucky to get away with a 1-0 win to be honest," Hager said. "They dominated for long periods, our basic skills were quite poor and our ability to put sequences of passes together wasn't good - and we lost the plot with our structure."
The players can expect a tune up today. Hager was even pondering if this was an occasion where there's little point replaying the video at their debrief today.
He suspected a degree of over-confidence had crept in, especially after the last meeting between the teams. In one sense, five changes to the squad from last week's tournament didn't help, but there's a long-term aim about that.
"What we're hoping is they'd come in and give us energy," he said. "The best thing is we won and we're learning and developing some more players."
And Hager admitted had he been the US coach "I'd have been as gumpy as all hell. They lost a really good opportunity to knock us off."
Senior figures Anita Punt and Stacey Michelsen had decent games while goalkeeper Amelia Gibson had a good night. However Hager is clear on one thing: "If we play like that tomorrow the Koreans will beat us. We have to be better than we have in the last few games."
Argentina were 2-0 up at halftime against Korea, increased it to 3-0 and won well. Two goals apiece from Carla Rebecchi and Maria Noel Barrionuevo did the job for the South Americans, who have the easier path to the final, facing the US tomorrow. Young Ran Kim got Korea's goals.