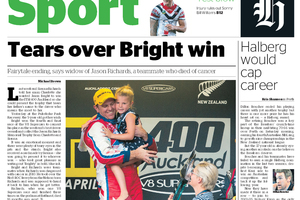 A brief look at the sports stories that are making news this morning.
In the paper
Tears over Bright win
The Herald sport section leads with the emotional victory at Pukekoke yesterday for Jason Bright, former teammate of Jason Richards who died of cancer 16 months ago.
Boucher eyeing up Halberg
Dillon Boucher ended his playing career with yet another trophy but there is one more prize he has his heart set on - a Halberg award.
Blues find defensive steel
The Blues are talking about defence like it is rugby treasure.
They have unpicked the lock on that booty and are discovering the gleam it can deliver, writes Wynne Gray.
Roosters' teen set to crow
Sydney Roosters wing Roger Tuivasa-Sheck has been named in the 19-strong Kiwis' squad and could make his international debut in the Anzac test against Australia in Canberra on Friday night.
Overnight news
City beat Chelsea to reach FA Cup final
Manchester City reached the FA Cup final by beating defending champion Chelsea 2-1 in a free-flowing game at Wembley today to maintain its only remaining hope for a trophy this season.
Alonso's strong run in China pointer to championship
Fernando Alonso's win at the Chinese Grand Prix last night announced the Ferrari driver as a strong contender for the Formula One championship after a comfortable victory in which he claimed to have plenty to spare.
United resumes title surge with win at Stoke
Manchester United resumed its charge to the Premier League title by outclassing Stoke 2-0 today, while Manchester City also closed in on a trophy by beating Chelsea 2-1 at Wembley to reach the FA Cup final.
Masters coverage
nzherald.co.nz will have live updates of the Masters from 7.30am today. Will an Aussie be putting on the green jacket later today?
By the numbers
15-time NBA All Star Kobe Bryant has had surgery to repair a torn Achilles tendon which could sideline the Los Angeles Laker for up to nine months.
2-stroke penalty for Tiger Woods after he could have been disqualified for signing an improper score card at the Masters.
17 players within six shots of the lead after the third round of the Masters.
Quote of the day
"It was a big step in the right direction, especially in defence."
Blues rugby coach John Kirwan sees a lot to be happy about from his young team