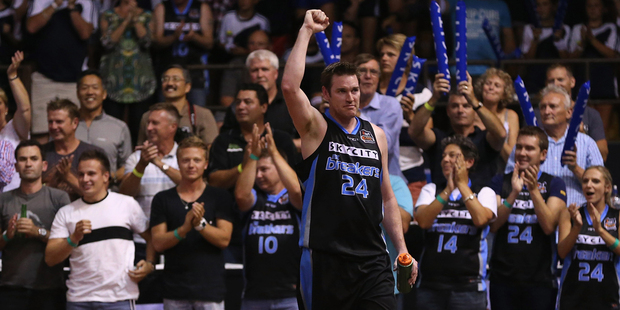 Dillon Boucher ended his playing career with yet another trophy but there is one more prize he has his heart set on - a Halberg award.
The retiring Boucher was a key part of the Breakers' crunch-time lineup in their nail-biting win over Perth on Saturday morning (NZT), earning his fourth Australian NBL ring to go with nine championships in the New Zealand national league.
But the 37-year-old is already eyeing up another accolade, one he believes the Breakers richly deserve.
Boucher and his teammates, incredibly, have failed to earn a single Halberg nomination the last two seasons, despite becoming the first Kiwi side to win an Australian competition, and backing it up the following year.
Now they've made it three in a row - to join the 2003-05 Sydney Kings as the only club to achieve the feat - and Boucher thinks it's about time the Breakers are recognised at New Zealand's national sporting awards.
He's not just after a nomination, though - he wants the main prize.
"One title's hard to win, two's bloody hard, three's near impossible,'' he said. "For a team in New Zealand to win an Aussie comp for three years in a row, it speaks volumes about not only the players on this team but this organisation.
"There's no Olympics [this year], there's no World Cup, there's no reason why we shouldn't clean up the Halbergs.''
It's hard to argue with that assessment, considering the dominating manner in which the Breakers went back-to-back-to-back. After setting a club-best regular season record of 24-4 - including the league's second-longest win streak of 16 games - the Breakers swept both rounds of the playoffs and clinched the title on the home court of their greatest rivals.
Boucher is right about timing, too, with previous championships perhaps lost in the afterglow of the Rugby World Cup and London Olympics. But with the rest of the calendar relatively bereft of major international competitions, this may be the Breakers' year.
"We've done a pretty special thing that no other New Zealand sports team have been able to do,'' Boucher said. ``The New Zealand public has got behind us and supported us, so it's time for those people that make the decisions to take a look at us and realise what we're doing is pretty special.''
While the Breakers must be considered favourites for team of the year, Andrej Lemanis would have also had a strong case for coach of the year after guiding his side to 28 wins from 32 games, but eligibility criteria prevents the Australian's nomination.
If common sense does prevail and the Breakers are at least invited to the February ceremony, it would only add to the glorious conclusion to a glittering career Boucher has already experienced.
"When Paulie [Henare] got the send-off that he so richly deserved and we sent him out on a high, I was very envious,'' Boucher said. ``I never knew that this team was going to be able to produce a performance like this to send me out the same way.
"I'm so proud of this team, so proud of this organisation and I couldn't be happier.''
Boucher's satisfaction was added to by Daryl Corletto, who had promised the veteran he would get the ball in Boucher's hands as the clock wound down. That enabled Boucher to hurl it high into the rafters for the last act of his playing career - though that was not his first choice.
"I wanted to dropkick it in the stands but I didn't want to get a technical foul, so I just threw it in the air. For [Corletto] to give me the match ball to be able to throw it like that was pretty special.''
- APNZ