Kirwan impressed as players work hard as a unit to keep Hurricanes out at Eden Park.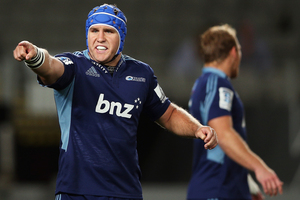 The Blues are talking about defence like it is rugby treasure. They have unpicked the lock on that booty and are discovering the gleam it can deliver.
As one of the recent franchise greats, Jerome Kaino, looked on, the Blues turned in a tackling effort against the Hurricanes he would have applauded. The message is seeping through.
It underscored a 28-6 win to the Blues at Eden Park as they shut out every attack the Hurricanes threw at them. There were plenty in the last 15 minutes.
Somehow Steven Luatua held up Rey Lee-Lo over the line, Brad Shields, Ben Franks, Chris Smylie and others were thwarted close to the paint.
Out wide the exciting Frank Halai kept a clamp on the dangerous Julian Savea, in midfield Jackson Willison continued the resistance he brought last round while the forwards had a thou shalt not pass blockade.
The Blues have a galaxy of attacking glitter and have now discovered the glamour they can glean from their defence. It is a gradual and incomplete process.
Captain Ali Williams has implored his men to work harder and communicate more in that area.
When the Chiefs suffocated them a few weeks ago, the lesson was graphic. The Blues had to emulate that sort of approach to take their game to another level.
Defence had to be a team tactic, individuals had to do it for their buddies next to them and for the coaches.
"For me that is the most impressive thing, we are starting to create where the team is bigger than any one person," Williams said.
Men like Charles Piutau, Halai, Rene Ranger, Piri Weepu and Steven Luatua would still produce their attacking thrust to ice a rock-solid defensive foundation.
Coach John Kirwan said the victory was a tick for the side's preparation. The Blues had kept their edge and had played for each other.
"We had to improve our defensive line and our speed into contact.
"There was some special team defence and some good hits," he said.
"It was a big step in the right direction, especially in defence."
Luatua's progress was one nugget. He had worked hard since being converted to blindside flanker and was understanding more of the nuances of the role.
"We have challenged him each week to keep running, run around the corner and he has learned how to empty the tank," said Kirwan.
"He has got a great physical presence, can play with the ball and is getting better in defence."
Another to get Kirwan's kudos was Halai, the right wing who is making all sorts of statements in his debut year.
"Frank Halai played the house down. This is a really smart footballer, you only have to tell him things once.
He's had a big night cutting down Julian Savea's space and much of that credit went to the team ethic which set the platform."