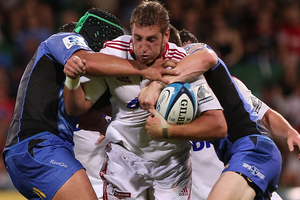 Luke Romano could have had a hat-trick in his side's defeat to the Western Force but he would have settled for playing like "a proper Crusaders team''.
Romano scored the Crusaders' only try in the 16-14 loss in Perth early this morning (Sun, NZT), a result which consigned the Christchurch-based team to fourth place in the New Zealand conference and eighth overall.
The All Black was one of the standout locks of the weekend - not that you would have known immediately following the game, when he cut a dejected figure slumped in a chair on the sidelines.
Romano had reason to feel aggrieved. Despite his best efforts, the Crusaders never really got going against a resolute Force team, and failed to turn into points a sustained period of pressure in the final 20 minutes.
In addition to his try, Romano excelled in his ball-handling and was one of the few Crusaders to make a good account of themselves in a loss which saw the seven-time champions return home from a three-match tour with just one win.
But Romano took no pleasure from his personal performance, instead ruing two potential victories - against the Sharks and Force - that got away.
"The last two games have been there for us to win and we haven't been able to finish them off,'' he said. ``It's been our own mistakes which have been letting us down - that's the sad thing about it.
"We're going to have to really pull our thumb now and head home and start playing like a proper Crusaders team.''
They certainly fell well short of that mark this morning, allowing a fired-up Force to make a fast start and heading to the sheds lucky to be within eight after a disjointed first half.
Romano's try came about after Corey Flynn, another Crusader to perform to expectations, made a marauding run down the left wing before Adam Whitelock popped a pass infield for the lock to lunge over the line.
The Crusaders showed better application in attack in the second spell and strung a few phases together, though their backs were still found wanting. The forward pack were almost rewarded for their efforts when Romano burrowed near the line but, having already been denied in the first half after a forward pass in the build-up, Romano again fell foul of the video official
"It was on the line but with everyone piling in there it's hard for the TV to see,'' he said. "Sometimes they go your way and sometimes they don't.
"We were in that for the whole second half. A few calls didn't go our way with those two tries but you can't blame that.''
Nor were the Crusaders blaming their preparation. The stopover in Western Australia on the way home from South Africa is always a difficult ask but Romano said his side's full attention was on the opposition, not the long-awaited flight home.
"It's been shown before that they teams at the bottom of the table can tip up the top dogs. We go into every game treating it like it's a top-dog team and the Force showed that they're a quality team.''
The Crusaders will again be wary of the winless Highlanders when they host the Southern men on Saturday night, though they will be targeting five points to get their stuttering campaign back on track.
"They're really desperate for a win, so they're going to come out all guns blazing,'' Romano said. ``They're going to know that we're a bit vulnerable after two losses, so we're going to have to go back home, regroup and go out and put our stamp back on the competition.''
- APNZ