Admissions by French players of drug taking in the 1970s and 1980s begs the question: How widespread was doping in world rugby? Gregor Paul reports that while some former All Blacks have suspicions about certain sides, they don't believe it was an issue in New Zealand rugby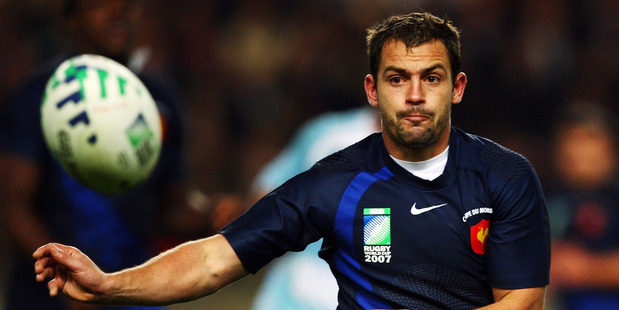 The French have, for decades, seen the All Blacks as world rugby leaders. What is emerging now is a lack of conviction on their part that the All Blacks have maintained this position legally.
Perhaps inevitably, given the current global appetite among criminal and governing bodies to weed out cheats and vagabonds, French rugby is the latest sport to fall foul of investigators.
Two weeks ago, France's equivalent of DrugFree SportNZ, the Agence Française de Lutte contre le Dopage (AFLD), revealed that, proportionately, rugby had returned the highest number of positive tests in 2012.
These findings have been met withboth predictable and surprising reactions. France's governing body and players' union have dismissed the results - rubbished them with the usual assurances that their sport is, of course, squeaky clean.
Somewhat unexpectedly, a host of former French players have broken ranks and said they are not at all surprised, as they themselves doped and knew of others doing it.
The most significant admission came from former international player and coach Jean-Baptiste Elissalde.
"In the 1970s and 1980s, amphetamines were widely taken," Elissalde said. "It was taken by cyclists, by footballers, and obviously by rugby players. I personally took amphetamines twice. There is nothing extraordinary in that and afterwards, there were other forms of doping, notably in order to be able to work harder and to put on muscle.
"The players from the Southern Hemisphere, when they played Downunder, they produced incredible performances but, when they played here, they had more success around the barbecue."
Whether Elissalde was being mischievous, flippant or genuine doesn't particularly matter - his comments about the Southern Hemisphere can't be ignored. Back in the bad old days when Eastern European nations were running institutional drug programmes for Olympic athletes, the argument in the West was always about the need to keep up.
Athletes caught doping admitted they did it because they knew their rivals were doing it and this is perhaps where the concern should lie with Elissalde's allegations.
If drug-taking was rife in France in the late amateur period, could their certainty it was happening elsewhere have been one of the key drivers?
"I know of one or two players (in New Zealand), one of whom might have been in the front row, who took supplements, legal ones, and there were maybe one or two players who at provincial level changed body shape rapidly and noticeably," says former All Black prop Richard Loe, who won 49 caps between 1987 and 1995.
"We suspected it (drug taking) was rife in South Africa. When we went over there after they re-entered competition, we were dwarfed by them individually.
"They weren't taller than us but they had this enormous bulk and you got this feeling that, when they had been in isolation, they were pretty much able to do whatever they wanted.
"But I have always said that within the All Blacks, we relied on our sponsors' good products - beer. You look at Australia; it was pretty obvious that the only thing (Wallaby props) Ewen McKenzie and Tony Daly were taking were sponge cakes and doughnuts."

As the two teams lined up in the tunnel ahead of the second test in Nantes, 1986, All Black No 8 Buck Shelford sensed there was something not quite right. The French, even allowing for their legendary propensity to emotionally supercharge before a test, were, quite literally bouncing off the walls.
In every face, there was a pair of wild, bulging eyes. Defeated the week before, France ripped into the All Blacks in Nantes, beat them up, shook them up and spat them out.
"There was something about them that day that has always stayed in my mind: did they take drugs that day? They had this look in their eyes that just didn't seem natural. There was no team talk that could have motivated them to that extent," says Shelford.
"Never before have I seen a team make such a transition from one week to the next. We beat them in Toulouse the week before but they were a completely different side in the second test.
"They just kept smashing us and smashing us for 80 minutes and didn't wear out. There was no way they were the same guys we had met seven days previously."
Shelford's team-mates Grant Fox, Loe and John Kirwan have similar memories; they had similar concerns that the French had reached that frenzied point only by means of pharmaceutical assistance.
Somehow, it's easy enough to believe the French may have indulged in illegal doping. Not only are there admissions from players, there is a natural, general scepticism when it comes to the French; their code of ethics may be looser than most.
Over the years, they have developed a reputation for anything goes and if they are happy to eyegouge, taking illegal drugs would only be an extension of a general philosophy that winning is what matters, not winning fairly.
Yet when accusations flow the other way, it incites moral outrage. There exists within New Zealand an unchallenged notion that cheating is not in the national psyche; drugs may well be taken in every sport in every other country, but not here.
It's always dangerous having blind faith in the nobility of others. The All Blacks, especially given their continued record of excellence, cannot be beyond suspicion.
Certainly those players around in the 1980s, many of the men who were an integral part of the 1987 World Cup-winning side, react uniformly to aspersions cast.
"I can say with absolute honesty that I did not see anything within my peer group that suggested anyone was taking illegal substances," says Fox. "We didn't talk about it, I was never offered anything and you just had this sense that it wasn't being done.
"We had a lot of contact with Australia during my career and again, we never had any sense they were taking anything.
"I don't think we were producing vastly superior athletes at all - we had the occasional 'freak' in Michael Jones who just had this phenomenal VO2 capacity - but I would say what we had between our ears and our collective desire to play for each other, had a big influence."
"Call us naive, or old fashioned," says Loe, "but we had this quaint notion that if we trained harder than everyone else, it would help us win games."

Whatever was happening in France, South Africa or anywhere else in terms in the 1980s, there is no evidence drug taking was happening in New Zealand rugby.
Kirwan can recall rumours in the media that No 8 Zinzan Brooke was a user of recreational drugs.
"I think there may even have been a magazine article at the time," he says, "but it was all rumour. We were tested a lot back then and I think Zinny more than anyone. There was a period where he was tested about eight weeks in a row and he was always clean.
"I never saw anything in New Zealand, was never offered it and never took anything. I did see it in Europe in the early days, from some of the biggermen, but never here."
It may not suit the French or the rest of the world to believe this, but illegal drug-taking within the All Blacks is in the category of wild conspiracy. The truth behind the All Blacks' incredible win ratio is almost certainly lacking in glamour, intrigue or scandal.
"We played a style of rugby back then," says Fox, "that required us to be incredibly fit. We held the view that if we were fitter than everyone else, it wouldn't mean we wouldn't be beaten on occasion, but we would be stacking the odds in our favour.
"At Auckland, and then with the All Blacks, we worked with fitness trainer Jim Blair and he made things a lot more scientific, I suppose. Before his introduction, fitness was basically about hitting the roads and building endurance.
"Jim changed that and he made inroads towards getting us explosive or giving us real sharpness, as he called it. We did essentially a lot of grid work that got us used to accelerating and sharp movements and it also helped with our handling skills and peripheral vision.
"I'm not sure that there were many other teams around the world at that time who were working like that."
Shelford feels much the same way. He had overseas stints in France and England, and it was while at Northampton in the early 1990s that he realised there was a gulf in standards between the two hemispheres.
"Back then, I think we had better training structures and better skill levels in New Zealand. We were probably fitter, too, because we had the weather to be fitter and the lifestyle to go with it.
"We played a 15-man game on top of the ground while over there, it was a bit more dour, a real grind in the forwards and then the No 10 would kick it away. We gave everyone an opportunity to play."