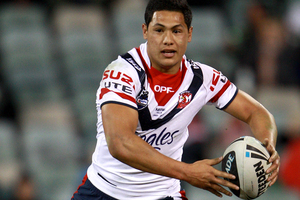 Sydney Roosters rising star Roger Tuivasa-Sheck is only 19 and already giving back to his community.
Tuivasa-Sheck, who made his NRL debut for the Roosters last season, plans to donate his prizemoney from the Herald Future Stars of Sports awards to his former school, Otahuhu College.
The league star was today recognised alongside five other top young sports achievers at the annual awards luncheon in Auckland, but was unable to attend the event as he is in Sydney preparing for this weekend's clash against the Bulldogs.
Also honoured today were paralympic swimmer Mary Fisher, women's sevens star Tyla Nathan-Wong, cyclist Sophie Williamson, rower Cameron Webster and Black Sticks midfielder George Muir.
Peter Thompson, a teacher at Otahuhu College who Tuivasa-Sheck for the award, said the youngster's willingness to gift the $1500 prize money to his old school is typical of his giving nature.
"It's a lovely gesture - but that's just the sort of kid he is, he's always willing to help out," said Thompson.
"He's just a normal kid, he's never had a big head - there's no ego about him, he's a great role model for South Auckland kids.
Thompson, who manages the College's first XIII league side said the money will go towards to new jerseys and training gear for the team and hopes to have Tuivasa-Sheck's name embroidered on them as a constant reminder to the players of what can be achieved if they work hard.
Webster and Muir know the benefit of hard work - although they weren't always known for it.
The pair attended the same playcentre in Greenhithe when they were children, and 14 years on their families met up at the awards lunch
"They were the naughtiest, cheekiest of boys - and we were so judged by the other parents," laughs Webster's mother Penny.
Webster, who won gold with the men's coxed four at last year's world championships in Bulgaria, is one of the stand-out athletes of the next breed of top young rowers. He hopes to follow in the footsteps of the likes of Eric Murray and Hamish Bond.
"Watching all the amazing things [the New Zealand] rowers achieved at the Olympics achieved was such a huge inspiration for me, it's definitely motivated me knowing that if I work hard I can achieve that for myself."
Fisher knows the glory of standing atop an Olympic podium.
The 20-year-old said her selection in the Paralympic team for London last year cemented a dream she had been working towards for 10 years. Fisher, who had the additional challenge of adjusting to life and her sport with a deteriorating eye condition, which had her classified as fully blind in May last year, went to London with the hope of setting new personal bests. She returned with a gold, two silver and bronze medal and a resolve to achieve excellence on the international stage.
Cyclist Sophie Williamson also had an impressive 2012 season, collecting silver medals in the points and scratch race at the junior world track championships.
This year hasn't quite gone to plan, with the youngster hampered by a series of injuries crashing out of a track meet in Melbourne in January. Williamson will head off to the US later this year to compete with professional women's team Vanderkitten - an experience she hopes will help her develop her endurance riding further as she aims for Commonwealth Games and Olympic selection.
Also gunning for the 2016 Olympics is Tyla Nathan-Wong, one of stars of the women's sevens team. Nathan-Wong scored two tries in New Zealand's 41-0 win over South Africa in the final of first round of the inaugural IRB women's sevens world series in Dubai last year, earning herself the reputation as one of the most exciting young players on the circuit.
A gifted touch player, Nathan-Wong said the inclusion of rugby sevens in the Olympic programme for 2016 made her realise their was a genuine career path open to her in sport.
"With sevens now being an Olympic sport is just makes you push that much harder at trainings. It's definitely my dream to go to Rio," she said.