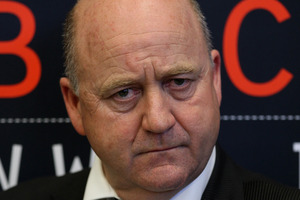 Former New Zealand cricketer Mark Greatbatch has admitted his involvement in John Parker's movement for better governance.
The 41-test veteran, like former team-mate and television commentator Ian Smith, felt compelled to show solidarity to former test captain Parker in what has been another turbulent week for the game.
Greatbatch worked in a coaching role with New Zealand until John Wright's appointment as head coach in December 2010. He subsequently became convenor of selectors. The 49-year-old has also been a strong mentor in Ross Taylor's career.
"I'm part of this group," Greatbatch said. "I want what is best for New Zealand Cricket and I'm not sure the people in governance are currently making the best decisions. Sure, everyone makes mistakes but this time we've got to learn from them."
Greatbatch will not be putting his name forward for election to the board but believes there are people involved in Parker's group who will do so successfully.
"Players in the past like John Parker and Martin Crowe have put their names forward for the board but others with supposedly more knowledge of the game have been chosen. That's the crux for me.
"I'm happy being part of a movement which wants to help make informed decisions so we don't have the multiple incidents which have recently detracted from our game."
Until Smith and Greatbatch came forward, Parker had been alone in attaching his name to the group in the interests of focusing on principles rather than personalities. That has come undone this week with the release of a 77-bullet point plan time-lining some alleged recent incidents.
Parker does not want the focus to remain on the Taylor captaincy saga.
"This is not meant to be a Ross Taylor vs Brendon McCullum issue. It's wider than that. That was just meant to be an example of poor governance."
"Any doubt our group existed must have been removed by now. We're focusing on the revamped constitution [NZC is due to release it this week] and the appointment of good board members."
In a media release from NZC on Thursday, chief executive David White said: "The allegations raised by John Parker and the anonymous group of critics are divisive, untrue and reflect poorly on them rather than the players they have wrongly attacked."
The statement also said the material consists of: "hearsay, speculation and rumour and appears to concentrate almost entirely on attempting to re-litigate the issues surrounding the replacement of Ross Taylor as Black Caps captain."