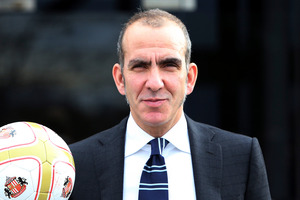 Newly appointed Sunderland manager Paolo Di Canio yesterday renounced his links to fascism after an outcry over his previous comments and actions regarding his political beliefs.
Di Canio has had to deal with three days of intense scrutiny since his hiring by Sunderland on Monday, after detractors picked up on a comment in 2005 in which the Italian is reported to have said "I am a fascist" as well as straight-arm salutes he once performed to fans of his former club Lazio.
"I am not political, I do not affiliate myself to any organisation, I am not a racist and I do not support the ideology of fascism," Di Canio said in a statement released by Sunderland.
The saga blew up when Sunderland vice-chairman David Miliband, a former British Foreign Secretary, quit the club in protest at the new manager's "past political statements".
Di Canio rebuffed questions about his political leanings at a stormy news conference, but received fresh criticism yesterday when the Dean of Durham wrote an open letter calling on the coach to renounce fascism publicly.
The same thing was requested this week by anti-racism groups.
"I feel that I should not have to continually justify myself to people who do not understand this, however, I will say one thing only: I am not the man that some people like to portray," Di Canio said.
He said he had been deeply hurt by attacks on the club, adding: "This is a historic, proud and ethical club and to read and hear some of the vicious and personal accusations is painful."
When Di Canio was given his first managerial job by Swindon in 2011, a leading trade union withdrew its sponsorship of the English club because of his past expression of admiration for Italy's former fascist dictator Benito Mussolini.
Union activists in northeast England have also objected to Di Canio's arrival at Sunderland.
- AP