Disabled 16-year-old student Jeremy Hendrix has found his place in a variety of sports.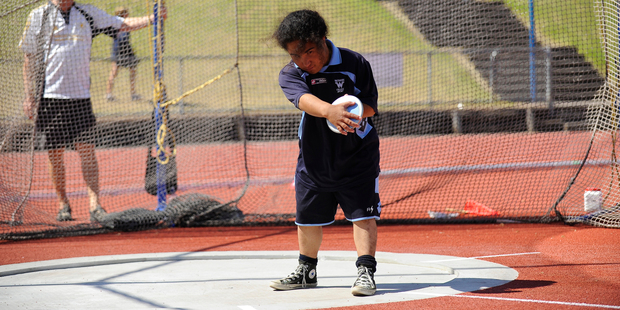 Yazmin Hendrix is counting down to the 2016 Rio Paralympics and the chance to see her son Jeremy competing in the Brazilian capital.
To fulfil their dream by playing wheelchair basketball would cap a determined sporting career for the 16-year-old Waitakere College student.
Born with Myhre syndrome, of which dwarfism is one of the characteristics, Jeremy Hendrix, at 152cm, cannot expect to get any taller. But, like everything in life, including being totally deaf, it does not faze him.
Fresh from a busy day at the Greater Auckland Athletic Championships at Mt Smart Stadium, where he won gold in the discus throw and silver in the shot put and 100m for athletes with disability, he proudly displays his medals but, according to his mother, "makes no big deal of it".
A product of a sporting programme embraced by Waitakere College and Manurewa High School to encourage such young men and women to get into sport, Jeremy Hendrix is flying the flag.
"I remember clearly when he was nine years old and he ran across the road to join some other children playing rugby," said his mother. "They treated him like he was one of them and gave him the confidence to have a go. Sport has undoubtedly helped him socially. He is accepted by his peers in spite of his difficulties and is treated like any other 16 year old.
"I also look back at times when as a family we used to play touch. Because he couldn't hear the calls, we used to give him the ball and point saying 'run Forrest run' and he would take off.
"He adapts so well to any challenge. He used to play boccia and now plays 10-pin bowls. He just took to it and has a lot of cousins and friends who encourage him."
Finding his place in a variety of sporting fields caps what was a difficult start in life.
"The first six years were a nightmare," said Yazmin. "He could have lost all his mobility but, thankfully, that didn't happen. Mentally it was a huge challenge but in the last two years he has adapted brilliantly."
Halberg Disability Sport Coordinator Stacey Roche said by working closely with College Sport, they have opened new avenues for disabled youngsters.
"Athletics has been one of our main focuses and College Sport have worked with us to ensure there is a category for athletes with disabilities," said Roche. "A number of schools are now encouraging their disabled girls and boys, but Waitakere and Manurewa have had the greatest response so far."
For Jeremy Hendrix, all sports are a challenge but one he relished.
Adept at lip-reading since he was two, he finds a way to get the most out of whatever sport he tackles.
That determination spills over to the academic side of school, with special ability in maths, history and Maori - the subjects he hopes to study at university when his school days are over.
Who knows, by then he may also have Paralympian on his CV.
College Sport results
RESULTS
ATHLETICS
GREATER AUCKLAND SS
(Mt Smart Stadium)

Girls.-
Senior.-
100m: B Salt-Bernard (Kings) 12.44s 1, S McIntosh (Western Springs) 12.81s 2, M McCaughan (Baradene) 12.91s 3.
200m: Salt-Bernard 26.32s 1, McCaughan 26.63s 2, G Molloy (Marist College) 27.41s 3.
400m: D Grace (MAGS) 61.50s 1, M Allbury (EGGS) 62.95s 2, A Botha (Macleans) 63.90s 3.
800m: A Salzmann (Rangitoto) 2m 29.31s 1, C Allbury (EGGS) 2m 31.75s 2, J Perrow (KingsWay) 2m 32.70s 3.
1500m: A Gregan (St Cuthberts) 4m 45.95s 1, Salzmann 5m 09.63s 2, M Allbury 5m 14.25s 3.
3000M: Gregan 10m 01.08s 1, Madeline Evans (St Kentigern) 10m 21.25s 2, Allbury 11m 49.24s 3.
100m hurdles: A Fraser (Kings) 15.40s 1, H Brough (Tuakau) 15.48s 2, B Van Tiel (EGGS) 16.14s 3.
Open 300m hurdles: Grace Gill (Strathallan) 48.03s 1, Caitlin Donaldson (MAGS) 49.80s 2, Claudia Oritsetimeyin Boyo (EGGS) 50.93s 3.
Open 2000m steeplechase: A Bracewell (Howick) 8m 11.1s 1, L Spratt (Kings) 8m 30.48s 2, A McFall (St Cuthberts) 8m 32.46s 3.
Open 3000m walk: Emma Dunbar (Onehunga) 19m 29.47s 1, Mesha White (Waitakere) 21m 33.54s 2.
4x100m relay: MAGS 52.81s 1, Rangitoto 53.47s 2, EGGS 54.22s 3.
Open 4x400m relay: Rangitoto 4m 07.44s 1, Howick 4m 17.68s 2, MAGS 4m 22.91s 3.
AWD 100m: L Hickey (Waitakere) 35.04s 1.
Long jump: Amelia Fraser (Kings) 5.26m 1, Millie McCaughan (Baradene) 5.06m 2, Caitlin Donaldson (MAGS) 4.82m 3.
High jump: Hope Curtis (Avondale) 1.55m 1, Brough 1.55m 2, Laura-Ann Martens (Baradene) 1.50m 3.
Open pole vault: Eliza McCartney (TGS) 4.11m 1, Hannah Lunday (Kristin) 3.10m 2, Kimberley Franklin (WGHS) 2.90m 3.
Triple jump: Brough 10.81m 1, McCaughan 10.77m 2, Fraser 10.62m 3.
Shot put: Harii Kiriau (James Cook) 11.92m 1, Ana Taumalolo (Otahuhu) 11.74m 2, Chasity Tugaga-Maxwell (EGGS) 10.32m 3.
Discus: MacHaela Tepai (St Cuthberts) 37.75m 1, Tugaga-Maxwell 34.23m 2, Ella Pilkington (WGHS) 33.00m 3.
Javelin: Kiriau 33.14m 1, Anna Akeli (MAGS) 30.78m 2, Luaipoumalo Oloamanu (McAuley) 27.23m 3.
Open hammer: Pilkington 43.54m 1, MacKenzie Vitasovich (Orewa) 34.92m 2, Mikaela Hellier (Macleans) 32.57m 3.
AWD shot put: Hickey 3.16m 1.
AWD discus: Hickey 9.08m 1, Grace Best (Waitakere) 4.97m 2, Hine-Mei Musgrave (Waitakere) 0.56m 3.

Intermediate.-
100m: N Robertson (Howick) 12.68s 1, S Tafuna'i (MAGS) 12.68s 2, N Eady (St Cuthberts) 12.71s 3. 200m: Robertson 25.87s 1, M Kidd (EGGS) 27.02s 2, C Pearn (MAGS) 27.06s 3.
400m: M Kirkuchi (Birkenhead) 58.26s 1, M Hodge (Rangitoto) 59.78s 2, E Manuel-Farmer (Rangitoto) 60.63s 3.
800m: L Jacobs (TGS) 2m 14.72s 1, S Baldwin (Rangitoto) 2m 19.53s 2, A. Thorpe (Howick) 2m 20.56s 3.
1500m: J Morrison (Howick) 4m 50.12s 1, M Christini (St Marys) 4m 50.66s 2, S Rees (St Cuthberts) 4m 51.21s 3.
3000m: Morrison 10m 17.22s 1, Alana Sherman (Glendowie) 10m 18.58s 2, Kaitlin Petherick (Pukekohe) 10m 27.01s 3.
80m hurdles: G Glover-Clark (Pinehurst) 13.02s 1, E Weitzel (Macleans) 14.50s 2, S Johnson (Howick) 15.28s 3.
4x100m relay: MAGS 51.04s 1, Howick 51.56s 2, Macleans 52.37s 3.
Long jump: Eady 5.31m 1, Brooke Urquhart (Howick) 4.91m 2, Hannah Sonneck (Mahurangi) 4.83m 3.
High jump: Charlotte Hunter (St Cuthberts) 1.55m 1, Brianna Butler-Gallie (Strathallan) 1.55m 2, Elenoa Toutaiolepo (Diocesan) 1.55m 3.
Triple jump: Rosie Hubbard (Macleans) 9.94m 1, Savarna Asafo (Waiuku) 9.85m 2, Molly Leggett (Orewa) 9.84m 3.
Shot put: Ofa Hakeai (AGGS) 14.00m 1, Ivanja Po'uhila (Marist College) 13.62m 2, MacKenzie Vitasovich (Orewa) 13.12m 3.
Discus: Urquhart 42.67m 1, Hakeai 39.28m 2, Vitasovich 37.81m 3.
Javelin: Urquhart 30.33m 1, Oriwia Marshall (Kaipara) 27.21m 2, Liana Morgan (Pukekohe) 25.89m 3.
AWD shot put: Freedom Nathan (Manurewa) 5.69m 1, Ruka Toko-Mikahere (Waitakere) 3.30m 2, Catarina Owen (Waitakere) 2.91m 3.
AWD discus: Toko-Mikahere 5.56m 1, Owen 5.04m 3.

Junior.-
100m: J Bull (MAGS) 12.82s 1, H Harrison (Lynfield) 13.25s 2, K Barlow (MAGS) 13.46s 3.
200m: V Kolose (St Kentigern) 26.10s 1, Bull 26.14s 2, C Smaill (Macleans) 26.91s 3.
300m: Kolose 41.96s 1, S Pearless (Pinehurst) 42.68s 2, Smaill 43.67s 3.
800m: Pearless 2m 23.10s 1, J Giurgiu (TGA) 2m 25.19s 2, J Hand (MAGS) 2m 28.67s 3.
1500m: L Watkinson (Diocesan) 5m 03.72s 1, G Clode (Baradene) 5m 06.51s 2, J Cropp (Rangitoto) 5m 08.89s 3.
3000m: Clode 10m 57.30s 1, Alyssa Bullot (Glendowie) 11m 06.94s 2, Millicent Anderson (EGGS) 11m 10.97s 3.
70m hurdles: Barlow 11.78s 1, M Longopoa (MAGS) 11.89s 2, A Robertson (Rangitoto) 11.97s 3.
4x100m relay: St Kentigern 53.48s 1, Macleans 53.93s 2, Pukekohe 55.70s 3.
Long jump: Jamie Speer (Massey) 5.06m 1, Grace Tan (Macleans) 4.89m 2, Katelyn Vaha'akolo (St Dominics) 4.75m 3.
High jump: Alex Hyland (Onehunga) 1.58m 1, Shannon Cook (Long Bay) 1.55m 2, Maddy Poland (Lynfield) 1.50m 3.
Triple jump: Paige Witehira (MAGS) 9.91m 1, Hand 9.42m 2, Katie Ashworth (Kaipara) 9.04m 3.
Shot put: Grace Lui (KGHS) 11.88m 1, Mellata Tatola (St Marys) 11.66m 2, Therese Tuitavake (Sir Edmund Hillary) 10.69m 3.
Discus: Tatola 34.96m 1, Lui 33.76m 2, Mayah Coleman (St Kentigern) 29.64m 3.
Javelin: Lui 29.88m 1, Tylah Kauhiva (Avondale) 23.68m 2, Alexis Hickey (St Marys) 22.83m 3.

Boys.-
Senior.-
100m: A Heuvel (Macleans) 10.89s 1, P Fifita (Massey HS) 11.03s 2, C Logan (Rangitoto) 11.20s 3.
200m: 1 A Ramsdale (Kings) 21.96s 1, Fifita 22.30s 2, Logan 22.50s 3.
400m: B Stewart (Sacred Heart) 49.05s 1, H Boyhan (Sacred Heart) 49.95s 2, S Furniss (Waiuku) 52.72s 3.
800m: T Monnery (Kings) 1m 57.35s 1, A Beddoes (Sacred Heart) 1m 59.34s 2, E Vaughan (Pukekohe) 2m 01.76s 3.
1500m: F Wilson (AGS) 4m 06.17s 1, T Lonergan (WBHS) 4m 11.49s 2, L Eyles (Waiuku) 4m 15.54s 3.
3000m: Finn Wilson (AGS) 8m 58.77s 1, Hayden Rodger (Onehunga) 9m 05.59s 2, Kirk Madgewick (AGS) 9m 12.24s 3.
110m hurdles: P Kethers (Rangitoto) 15.02s 1, A Booth (MAGS) 17.36s 2, K Whitfield (Sacred Heart) 17.65s 3.
Open 300m hurdles: Booth 42.18a 1, Carl Scott (Howick) 42.26s 2, Hamish Kerr (AGS) 44.11s 3.
Open 2000m steeplechase: L Roper (Macleans) 6m 32.05s 1, B Mules (Kings) 6m 41.36s 2, L Paterson (Sacred Heart) 6m 56.44s 3.
Open 3000m walk: Jared Free KBHS) 16m 02.11s 1, Nathan McDougall (MRGS) 18m 25.66s 2.
4x100m relay: Macleans 44.19s 1, KBHS 44.31s 2, Kings 44.72s 3.
Open 4x400m relay: Sacred Heart 3m 30.86s 1, AGS 3m 36.06s 2, Howick 3m 42.82s 3.
AWD 100m: R Nelson-Parker (Kings) 13.39s 1, A Halo Tafea (Manurewa) 15.61s 2, T Pearse (James Cook) 24.23s 3.
AWD 200m: Nelson-Parker 28.14s 1.
AWD 400m: Pearse 1m 51.89s 1.
Long jump: Ben Waters (WBHS) 6.29m 1, Fifita 6.25m 2, Eperu James (De La Salle) 6.17m 3.
High jump: Rhys Malcom (WBHS) 1.90 and Matthew Peters (Dilworth) 1.90m equal 1, Booth 1.90, Cory McDermott (Green Bay) 1.90, Ryan Goosman (Sacred Heart) 1.90m equal 3.
Open pole vault: Luca Denee (TGS) 4.40m 1, Matt Cambell (Kristin) 4.40m 2, Kethers 4.20m 3.
Triple jump: Cameron Emerson (MAGS) 13.25m 1, Glenn Phillips (Sacred Heart) 12.09m 2, Nick Walsh (Kings) 12.08m 3.
Shot put: Benedict Chong Wong (Liston) 18.12m 1, Latham Takua (Kings) 18.02m 2, Matt Bloxham (Orewa) 17.74m 3.
Discus: Sam Ulufonua (AGS) 56.63m , Chong Wong 49.77m 2, Andrew Jackson (St Kentigern) 44.45m 3.
Javelin: Taylor Matthews (Massey) 58.98m 1, Eperu James (De La Salle) 55.03m 2, Kartoon Hooper (TGS) 48.95m 3.
Open hammer: Bloxham 69.16m 1, Jackson 37.29m 2, Alexander O'Neill (Rosmini) 36.40m 3.
AWD shot put: Winston Tootill (Waitakere) 8.13m 1, Halo Tafea 7.24m 2, Pearse 6.88m 3.

Intermediate.-
100m: B Farrell (Sacred Heart) 11.17s 1, M White (Sacred Heart) 11.22s 2, B Ennor (St Kentigern) 200m: 11.47s 3. Farrell 22.71s 1, J Bolland (Glenfield) 23.27s 2, H Wagner-Hiliau (AGS) 23.36s 3.
400m: H Curran (Sacred Heart) 53.28s 1, S McConnell (AGS) 53.68s 2, L Young (Mahurangi) 54.56s 3.
800m: M Dawson (AGS) 1m 58.79s 1, G Kilmister (AGS) 1m 59.80s 2, J Stevenson (KingsWay) 2m 02.97s 3.
1500m: D Hoy (WBHS) 4m 12.98s 1, A Morreau (AGS) 4m 15.07s 2, L Fielding (Avondale) 4m 17.89s 3.
3000M Hoy 8m 55.64s 1, Finn Mason (WBHS) 9m 03.87s 2, Morreau 9m 10.50s 3.
100m hurdles: N Longopoa (MAGS) 13.61s 1, K Segers (MAGS) 13.99s 2, C Scott (Howick) 14.07s 3.
4x100m relay: Sacred Heart 44.85s 1, MAGS 45.14s 2, AGS 45.36s 3.
AWD 100m: J Hammond (Manurewa) 14.57s 1, J Hendrix-Harris (Waitakere) 48.72s 2.
AWD 200m: Hammond 30.27s 1, K Lane (AGS) 33.17s 2.
AWD 400m: Lane 1m 20.70s 1.
Long jump: Hamish Gill (WBHS) 6.84m 1, Niven Longopoa (MAGS) 6.83m 2, White 6.22m 3.
High jump: Liam Speer (Massey) 1.90m 1, Curran 1.80m 2, Scott Liefting (Waiuku) 1.80m 3.
Triple jump: Freedom Vaha'akolo (Liston) 13.41m 1, Michael Motu (Manurewa) 12.29m 2, David Van Den Bogaard (Pukekohe) 12.26m 3.
Shot put: Alexander O'Neill (Rosmini) 15.03m 1, Bernard Togiatomai (MAGS) 13.52m 2, Tamati Niko (De La Salle) 13.21m 3.
Discus: O'Neill 51.33m 1, Sheldon Tovio (Sacred Heart) 45.62m 2, Togiatomai 45.09m 3.
Javelin: Julian Abraham (Macleans) 47.56m 1, Hayden Chellew (Macleans) 46.43m 2, Dale Mahlagwai (AGS) 42.76m 3.
AWD shot put: Abraham Sovea (Manurewa) 7.05m 1, Hendrix-Harris 6.72m 2.
AWD discus: Hendrix-Harris 12.64m 1, Sovea 11.78m 2.

Junior.-
100m: A Smalley (Otahuhu) 11.98s 1, C Clarke (MAGS) 12.08s 2, A Lin (AGS) 12.10s 3.
200m: G Fitzsimons (AGS) 24.37s 1, E Blight (St Kentigern) 24.56s 2, Clarke 24.56s 3.
300m: O Tamo'ua (KBHS) 40.04s 1, N Hemi (Sacred Heart) 40.73s 2, T Lott (St Kentigern) 41.27s 3.
800m: F Palmer (Macleans) 2m 06.73s 1, T McLean (Macleans) 2m 08.56s 2, A Mago (Howick) 2m 09.01s 3.
1500m: Palmer 4m 30.68s 1, J Uhlenberg (Sacred Heart) 4m 38.39s 2, J Jackson (WBHS) 4m 40.28s 3.
3000m: Uhlenberg 9m 50.87s 1, Jackson 10m 00.79s 2, Jesse Weldschidt (Papatoetoe) 10m 04.66s 3
80m hurdles: R Caukwell (Rosmini) 12.21s 1, G Palota-Kopa (KBHS) 12.46s 2, Lin 12.69s 3.
4x100m relay: AGS 48.17s 1, St Kentigern 48.52s 2, Sacred Heart 48.73s 3.
AWD 100m: I Payne (Manurewa) 13.91s 1, N Alizadeh (Manurewa) 15.50s 2.
AWD 200m: Payne 28.85s 1, Alizadeh 31.32s 2.
Long jump: Jack Fuller (WBHS) 5.57m 1, Jack Reynolds (Botany Downs) 5.51m 2, Liam Van Der Boom (Rangitoto) 5.49m 3.
High jump: Liam Van Der Boom (Rangitoto) 1.71m 1, Oliver Miller (St Peters) 1.68m 2, Rizvan Caukwell (Rosmini) 1.65m 3.
Triple jump: Callum Douglas (Kings) 10.88m 1, Callum Bean (AGS) 10.53m 2, Jacob Blundell (Sacred Heart) 10.24m 3.
Shot put: Samson Aruwa (AGS) 14.36m 1, Ethan Blight (St Kentigern) 13.40m 2, Raymond Taumalolo (Otahuhu) 13.36m 3.
Discus: Metuaiviivitoa Herman (AGS) 40.07m 1, Jack Galliven (Orewa) 39.91m 2, Anthony Nobilo (WBHS) 39.36m 3.
Javelin: Arthur Lin AGS) 36.07m 1, Ricky Xu (Macleans) 34.66m 2, Abraham Taucher (Sacred Heart) 34.07m 3.
AWD shot put: Alizadeh 6.82m 1, Mark Lettice (Waitakere) 4.41m 2.
WRESTLING
AUCKLAND SS CHAMPIONSHIPS
(Dilworth School)
Boys.-
Juniors.-
42kg: Sam Harrison (Waihi) 1, Ryan McCormick (Katikati) 2, Braun Pilling (Rangitoto) 3.
50kg: Tyler Corbett (Katikati) 1, Ronin Ainsley (Mahurangi) 2, Caleb Fa'auiga (KBHS) 3.
54kg: Suraj Singh (Katikati) 1, Enele Teakau (KBHS) 2, Torryn Lanauze-Phillips (Hamilton BHS) 3.
63kg: Mathew Oxenham (Rutherford) 1, Keilen Hunt (Hamilton BHS) 2, Sam Adlington (Rosehill) 3.
76kg: Jordan Marshall (Hamilton BHS) 1, Manaia Matafeo (Rutherford) 2, Bennedict Mnqat6hu (KBHS) 3.
100kg: Winsom Koh (KBHS) 1, Sam Woolston (Taumarunui HS) 2, Zarn Glander (Dilworth) 3.

Seniors.-
54kg: Douglas Lloyd (Dilworth) 1, Brahm Richards (Rutherford) 2, Fainu'u Sialaoa (KBHS) 3.
58kg: Matthew Downes (MAGS) 1, Jarrod Brown (WBHS) 2, Alex-Daniel Ferreira (Taumarunui HS) 3.
63kg: Matiu Pouri-Lane (Hamilton BHS) 1, Shahin Ariyazand (AGS) 2, Sam Dunlop (Waiuku College) 3.
69kg: Treymaine Butler (Hamilton BHS) 1, Jack Robertson (Dilworth) 2, Josh Meade (Dilworth) 3.
76kg: Ryan Tasker (KBHS) 1, Matthew Dowd (Sacred Heart) 2, Ezra Pooley (Dilworth) 3.
85kg: Hone Karaka (Hamilton BHS) 1, Solomon Subritzky (KBHS) 2, Tyler Spratt (Dilworth) 3.
97kg: Fau Vaka (KBHS) 1, Tenanoa Kaimanga (Mahurangi) 2, Kanititeti Makasini (Mahurangi) 3.
120kg: Deon Mau'u (Dilworth) 1, Raukawa Neems (Hamilton BHS) 2, Elijah Toailoa (KBHS) 3.

Girls.-
Juniors.-
54kg: Misty Townsend (Rosehill) 1, Jessica Finley (Rangitoto) 2.
60kg: Eden Togo (Rutherford) 1, Olivia Andrew (Pukekohe) 2, Teresa Dowd (St Marys) 3.
70-plus kg: Ruth Minturn (Avondale) 1, Emma Thompson (Rosehill) 2.

Seniors.-
56kg: Chantal van Weelie (Lynfield) 1.
75kg: Minturn 1, Jade Harrison (Rosehill) 2.
Champion male school: Hamilton BHS 1, Dilworth 2, KBHS 3.
Champion female school: Rosehill 1, Rutherford 2, Avondale 3.
Best male: Pouri-Lane.
Best female: Togo.