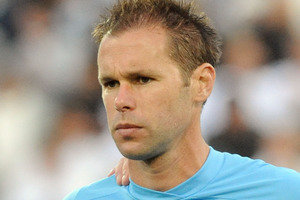 When your season ends with the symbolic presentation of a kitchen utensil you know it has been a campaign to forget.
The Wellington Phoenix were consigned to A-League wooden spoon status yesterday when they were beaten by the Melbourne Victory at a cold and windy Westpac Stadium.
This season has been one to forget in nearly every facet for the Phoenix, who saw former head coach Ricki Herbert stand down, co-owners have too much say on how the team should play and everything else in between.
The Phoenix won't officially be given a wooden spoon - the term is simply metaphorical - but if the club wants to avoid another last-place finish next season they need to make some vast improvements over winter.
They enjoyed a patch of brilliance midway through the second half yesterday when they drew level with the Victory at 2-2 when Stein Huysegems and Jeremy Brockie both scored in quick succession but they couldn't find a winner.
Victory striker Archie Thompson, so often a tormentor of the Phoenix, helped himself to that winner in the 84th minute, which put an end to Wellington's hopes of forcing a result.
The opening spell was an entertaining affair, despite the heavy gusts of wind that roared through the Cake Tin with no regard for where the players wanted to pass the football.
As the teams entered the stadium, the Yellow Fever supporters group unveiled a banner which read "Avoid The Spoon", which should have served as more than enough inspiration for the home side.
The Phoenix began brightly, too, as they played with the usual vigour they bring to home fixtures.
Goalkeeper Mark Paston, who announced his retirement from the Phoenix yesterday, was given the honour of captaining the side for the day in his final game and made a sharp reflex save in the 53rd minute to keep the Wellingtonians in the contest as they tried to show some defiance.
Paston's good work counted for little, though, when only minutes later Marcos Flores doubled the advantage for the Victory when he touched home a goal from a corner in the 57th minute.
Victory 3
Phoenix 2
- APNZ