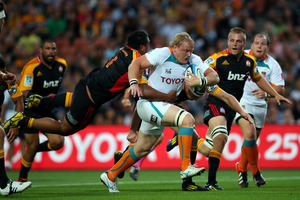 What felt right back in October has taken on the appearance of a serious mistake; how the Blues must wish they hadn't been so hasty in de-listing prop Pauliasi Manu.
The rejuvenation of Manu through the most circuitous route is shaping as one of the stories of this year's Super Rugby and it's a story with several threads. Manu is yet another player previously deemed to be coal to suddenly be unearthed by the Chiefs as diamond. With the Chiefs appearing a solid bet to stay close to the summit of Super Rugby, their ability to pick up discards or previously unnoticed players and recycle them continues to astound.
Forwards coach Tom Coventry is a particularly skilled operator in this field - his gift being his ability to rid piano shifters of their ambition to be piano players. He also seems adept at familiarising players with the concept of hard work.
Manu has confined his affairs at the Chiefs to scrummaging and cleaning out. He's also, for the first time in his professional career, got himself properly fit, having shed excess weight, built muscle and improved his aerobic conditioning.
"I've never been this strong and this fit," Manu said on the eve of the season. "My main goal was my skinfolds (body fat percentage test) and to get it under a hundred.
"In my rugby career, I've never got it under a hundred and now it's 86. I'm still the same weight, 115kg, but it's more muscle now. It feels a lot different - I have more energy to get out of the scrum and do more outside of that."
Simple stuff and yet he's become effective to the point where the Chiefs now have envious depth at prop with the big Bens - Afeaki and Tameifuna - plus Manu and Toby Smith.
This is in stark contrast to the Blues, who have been forced to convert a hooker to prop and gamble on Super Rugby rookies. Had they retained Manu, it's not as if they too would be soaring right now: it's more the case that letting him go is illustrative of how much development, learning and recruitment the Blues have to do before they can seriously close the gap on the Chiefs.
Success in Super Rugby is determined by making a lot of good decisions about things that may seem little at the time.
In defence of Blues coach John Kirwan, Manu had done a remarkable job of hiding his light under a bushel through the past two seasons. Called up to the Blues in 2011 after a strong campaign with Auckland, Manu played unremarkable cameo roles around the preferred front-row of Charlie Faumuina and Tony Woodcock.
Last year, he played more, impressed even less and, when Kirwan arrived in late August, he needed to make piles of wheat and chaff. Faumuina, Woodcock and the emerging force of Ofa Tu'ungafasi were the wheat. The latter was contracted to the Blues from 2014 - still only 20, they wanted to give him a year to develop physically outside the glare of Super Rugby. Other franchises were eager, though, to contract him for 2013 and that would have jeopardised the Blues' guarantee of getting him back.
So Manu went on the chaff pile, Kirwan confident they would still be able to keep him by retrieving him in the draft. Then the Rebels pounced and signed Manu for two seasons, a deal that would later fall through amid medical concerns, which allowed the Chiefs to pounce when they lost original selection Josh Hohneck to injury.
"We looked at all the other (New Zealand) franchises and they were full of props and we actually wanted Pauliasi to stay and then we got blindsided by the Australians, really," Kirwan said at the time.
"That was just the Australians coming in and picking off our players, which is a little bit unfortunate. We thought that Ofa Tu'ungafasi might have been at more risk ... We're a bit disappointed about that."
Kirwan was also blindsided by Woodcock's decision to shift to the Highlanders and an area of strength was suddenly looming as the weakest part of the Blues' offering.
Faumuina, Tu'ungafasi, Angus Ta'avao and Tim Perry were the four props finally contracted to the Blues for 2013, with Tom McCartney an option at loosehead and hooker.
With Faumuina out for at least four weeks, the Blues look decidedly vulnerable in their front row. De-listing Manu felt like a small thing back in October but, as Kirwan will now have learned, every decision counts in Super Rugby.