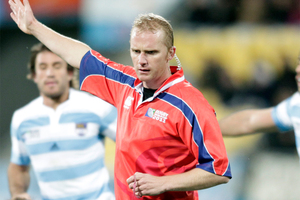 As if a rematch of the Rugby World Cup final wasn't enough, more spice has been added to the June test between the All Blacks and France at Eden Park with Englishman Wayne Barnes named as the referee.
It will be the first time Barnes will take charge of the two teams since the infamous 2007 Rugby World quarterfinal when France shocked the All Blacks 20-18. The defeat saw a backlash against the referee by New Zealand fans after a suspect pass lead to the deciding try and France weren't penalised in the final 20 minutes.
The vilification of Barnes got so bad that then Prime Minister Helen Clark got involved, telling New Zealanders not to blame the referee.
The two sides have played five times since the Cardiff quarterfinal, including two meetings at the 2011 World Cup, but Barnes wasn't assigned to any of those matches.
Despite the fact the game was now six years ago Barnes has continued to make headlines in New Zealand with then All Black coach Sir Graham Henry and captain Richie McCaw making note of his quarterfinal performance in both of their released books last year.
In his published biography Final Word Henry said he felt physically sick after reviewing video of the match in his hotel room. In his opinion, Barnes had missed as many as 40 penalties.
While in The Open Side McCaw said Barnes couldn't handle the pressure during the 2007 quarterfinal and shouldn't have been assigned to the match.
"I don't blame Barnes, but I do blame the people who appointed the most inexperienced referee on the roster to a RWC quarter-final between the hosts and the favourites. I thought both teams deserved a referee with experience," McCaw said.
"My beef isn't with Barnes so much as with his inexperience. This was Barnes' biggest game by far. On the big stage, an inexperienced referee is likely to become so afraid of making a mistake that he stops making any decisions at all.
"By the end of it, I thought Barnes was frozen with fear and wouldn't make any big calls."
McCaw will miss the June tests due to taking a rugby sabbatical.
The All Blacks and France clash at Eden Park on June 8, the first time the two sides have met since the World Cup, followed by two more tests in Christchurch (June 15) and New Plymouth (June 22).
Ireland's Alain Rolland and Welshman Nigel Owens will be in charge of the other two matches.
- nzherald.co.nz