Halfback credits fishing time in Wellington with big turnaround for the Blues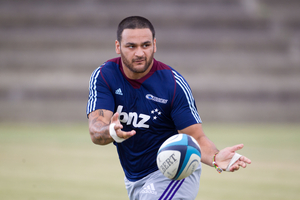 It is a very different Piri Weepu this season at the Blues.
He is in a good space and that composure is showing in his work around the squad and on-field performance.
He is not quite fully fit but nothing like the out-of-shape and injured halfback who turned up for his first season with the franchise.
Food remains a regular comfort but he has learned to offset that intake with hard daily training sessions.
The turnaround in his attitude has been evident after new coach John Kirwan lined him up and questioned his commitment to the Blues.
For a start, Weepu does not look as though he needs to borrow one of the prop's jerseys nor is he going into reverse as soon as the beep tests or sprint work start.
He has got most of his act together. For that he credits the time he gets at home in Wainuiomata, out on his boat or diving in the nearby water.
"I guess I have always been a big fan of the water, swimming and going to the beach. That's always something I have enjoyed," he said.
"As a kid in Wainui, I was always down at the pool.
"Then I got into snorkelling with my cousin up north in Matauri Bay. Hanging out up there and finding all sorts of things in the water was great.
"It combines my love of food with a bit of fun. That's what appeals. After school I got into diving with a mate and I just love the whole thing."
Weepu and his buddies try to get in a decent dive trip each season. The All Black halfback owns a boat which he likes to use each time he gets a leave pass from the Blues.
He does not need to go too far, he has a few favourite haunts in Wellington Harbour which always seem to provide enough kaimoana.
"If things get tough at work or rugby, you just jump in the boat and forget about things and have fun. It washes away a lot of things you might have been worrying about," he said.
"I just find diving is a great balance to the hard work at the Blues."
Crayfish and fish are his preferred targets because they require some patience while kina and paua straight out of the shell are his favourite tastes.
He likes eating most seafood raw, adding some soy sauce and a few trimmings to his catch.
It is a rich diet but Weepu is working at a good weight this year.
Once the All Black tour to Europe ended, Weepu headed for the south of France to catch up with old buddy Neemia Tialata. Back home, Weepu got back into his training.
"I wanted to keep my fitness ticking over rather than let it go," he said. "I did some boxing and bike sessions and kept active.
"From New Year it has been two sessions a day to try to keep up with these young fellas in the Blues."
Weepu and his Blues mates have big fish to net in Sydney on Sunday.
The Waratahs are a side chockful of reputations but with a solitary win. They will be primed even further after scathing comments from coach Michael Cheika and grizzles from their board.
"We got distracted against the Bulls," Weepu warned.
"So we have to do the basics, we have to refine our little skills and everyone has to know their jobs and moves. Both defence and attack have to be sorted."
This was a very important hit and run mission. The Blues were caught out against the Bulls and had to take those lessons with them to Sydney.
A repeat last game performance would be fatal.
"It is still early in the series but it is one of those games you have to be extra prepared for. We are away from family, our support, fans and things like that. We have to go on the road and make it count.
"It is almost like a make or break game for us."
Did Weepu think the younger Blues players understood this Super 15 level of rugby?
"We have to trust them and have faith in them. It is the only way for them to begin to work out how to play at this level."
At a glance
* Piri Awahou Tihou Weepu
* Age: 29
* 102 Super Rugby caps (84 Hurricanes, 18 Blues)
* 69 tests (24 starts)
* The second-most capped All Black halfback behind Justin Marshall (81