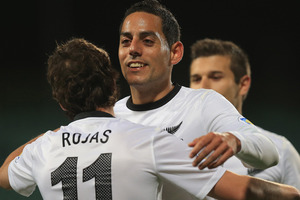 It should be easy.
All that's required is a win against a side made up of largely semi-professionals and you might need only one goal to grab that victory.
Your opposition is ranked outside the top 100 national football teams in the world and, while they prefer balmy beach weather, they're playing away from home in a city known for its cool temperatures.
The All Whites need to beat New Caledonia in Dunedin tomorrow night to ensure they will represent Oceania in a home-and-away playoff against the fourth-best team from North and Central America in November with a spot in next year's World Cup in Brazil on the line.
New Zealand have carved out a perfect four from four winning record during the third stage of World Cup qualifying and are only 90 minutes away from that intercontinental playoff.
Their preparation hasn't been smooth with an injury to left back Tony Lochhead, Ben Sigmund's suspension and the uncertainty around adopted Kiwi Andrew Durante's eligibility.
But New Zealand boast riches throughout the park - namely in the front third of the pitch - that New Caledonia can only dream of and are a better team than their world ranking of 88 suggests.
Despite all the statistics and favouritism, New Zealand only have to cast their minds back to last June when a shock 2-0 loss to New Caledonia saw them bundled out of the OFC Nations Cup and robbed of a ticket for this year's Confederations Cup.
Complacency ruined the All Whites' chances of claiming an OFC crown last year and the Horror in Honiara hasn't been forgotten.
All Whites veteran Chris Killen said the side had an unwavering focus on the task at hand as they looked to tomorrow's fixture at Forsyth Barr Stadium.
"We know a lot's riding on this game and and we are going to throw everything at it and get the job done tomorrow night and hopefully look ahead," Killen said.
New Zealand coach Ricki Herbert has only 14 available outfield players to chose from due to Durante's late scratching which limits the All Whites' options.
Goalkeeper Glen Moss was also ruled out of the game today with a twisted knee and Auckland City's Jacob Spoonley has been summoned to join the ranks.
Killen didn't want to give anything away regarding which formation the side would employ tomorrow but acknowledged that a three-five-two, four-four-two or three-four-three could be used.
"We've tried a few things in training. We haven't fully decided on the overall way we are going to play. We are looking at a few formations and we are working on a few things this morning and could decide on something tonight or tomorrow morning.
"We are pretty versatile now, we have got a good squad."
Killen, who plays in the second-tier of Chinese football for Chongqing FC, said it was promising to see the likes of young players Chris Wood, Marco Rojas and Kosta Barbarouses coming through.
"It's great. We are evolving and we've got a good bunch of young players coming through again. We always seem to get better and better as years go by."
New Zealand are on a fine line with yellow cards too, with 10 players, including Killen, one booking away from an automatic one-match suspension but Killen said their primary concern should be winning the game rather than worrying about a referee's caution.
Herbert will hope those youngsters can provide him with victory tomorrow so the side can lock up their berth in the intercontinental playoff before next week's final qualifier against the Solomon Islands in Honiara.
- APNZ