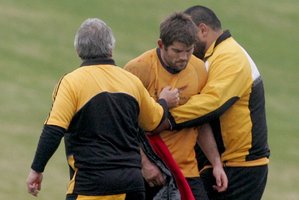 Simon Chisholm (centre) is reluctant to leave the field after being knocked out in the second half of the premier-grade rugby match. Photo / Chris Callinan
The Te Puna rugby player who knocked out Bay of Plenty Steamers' player Simon Chisholm has been sentenced for the king hit.
Farmhand Uenuku Pieta, 22, was sentenced to 200 hours' community work by Judge Louis Bidois in Tauranga District Court today.
Pieta was also ordered to pay $500 reparation to Chisholm for any suffering, embarrassment and inconvenience made by his injury.
Chisholm was knocked unconscious and spent two days in Tauranga Hospital following the premier-grade match at Maramatanga Park, Te Puna on July 21 last year.
for more articles from this region, go to BAY OF PLENTY TIMES