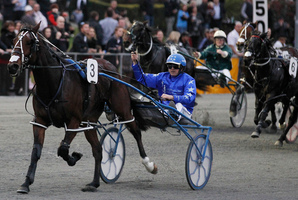 A lesson learned with New Zealand's best trotter has ended the season of our most exciting pacer.
Which means Smolda won't be seen again until September at the earliest.
The 4-year-old will miss the Miracle Mile, Messenger Pace and Harness Jewels after trainer Mark Purdon took veterinary advice for him to have a small operation and then a lengthy spell.
Smolda was last season's 3-year-old pacer of the year, had been in strong form this term and is widely regarded as the heir apparent to the open-class pacing crown.
However, he has not quite been 100 per cent for much of the summer, which vet's advice suggests is because of minor fetlock issues.
Purdon knows how serious they can become if not treated, with a worse version of that problem having ruled champion trotter I Can Doosit out for the season at a crucial time.
"Bill Bishop [vet] has told us that if we get his fetlocks flushed out now then it should stop this becoming a more serious problem, like it did with I Can Doosit," he said.
"So we have decided to go down that path and bring him back next season with the New Zealand Cup as his main aim.
"And I think the break will do him some good, even though the timing may not be ideal."
I Can Doosit will be also operated on soon and Purdon hopes he returns to his best next season.
One of the stalwarts of the all-conquering stable has moved on, with Highview Tommy being sent to Greg and Nina Hope for beach training.
"He was still working well but wasn't putting in on raceday all the time," said Purdon.
"So the beach training might help sharpen him."
Highview Tommy is one of the most under-rated pacers of recent years, having been placed in the past two New Zealand Cups, won a star-studded Ballarat Cup and nearly $1 million in stakes.
His transfer is just reward for the job the Hopes have done with a largely unfashionably-bred team of horses in the past two years.
Meanwhile, two of Purdon's female stars are having a short break.
Adore Me has been given a week to freshen up after her brave second to Ohoka Punter in last Friday's Woodlands Northern Derby before being set for three group ones in May-June.
Flying trotting mare Escapee will miss the next two weeks of riches in Melbourne and return to Christchurch to be set for the Jewels.
"She is a hard mare to train and has had enough for a while so needed the break."
While Escapee won't be in Melbourne this week, many of New Zealand's best trotters will be, with Stig, Vulcan, Sovereignty and The Fiery Ginga contesting the A$125,000 Australian Trotting Grand Prix ahead of next week's ground-breaking A$350,000 Great Southern Star series.