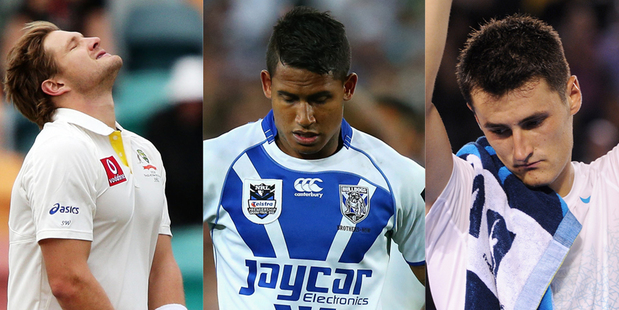 Australian sport, the once strong bastion of the sporting world, hasn't had the best 12 months with off-field incidents and controversies matched by poor results on the field.
Cameron McMillan looks at the sports in which the Lucky Country once dominated and where it's all gone wrong.
Cricket
Australia's fast sinking fall from the top of the cricketing world took on some more pace last night when Shane Watson, James Pattinson, Usman Khawaja and Mitchell Johnson were suspended for disrespecting head coach Mickey Arthur after not completing a post-match homework exercise. This comes after Australia lost the second test by an innings in India to trail the hosts 2-0 in the four match series.
The summer began with a series defeat to South Africa on home soil and is set to end with another series defeat. Not the best preparation for the upcoming Ashes series in England.
Long gone are the days of Warne, McGrath, the Waughs, Gilchrist, Hayden - heck even one test wonder Matthew Nicholson would probably be welcomed in the current line up.


Clarke blasts suspended players
Indians humiliate awful Aussies
League
The recent investigation by the Australian Sports Anti-Doping Authority had the biggest impact on rugby league with four Cronulla Sharks officials, including coach Shane Flanagan, having their contracts terminated.
Sharks players were reportedly given supplements by team support staff which contained peptides banned by the World Anti-Doping Agency meaning 14 players still have the threat of a drugs ban hanging over their heads.
This came on the back of one of the game's biggest names Ben Barba also being stood down indefinitely by the Bulldogs over behavioural issues on the eve of the NRL season.
On the field the game remains strong, sans shoulder charge, but the Kangaroos have to go through another eight months at least without the tag of world champions.
Cronulla coach stood down amid NRL doping claims
Barba's good friend 'had no idea' of player's troubles
Olympics
It took a medal blitz in middle of the final week for Australia to overtake New Zealand on the medal tally in London last year but that was all they could really celebrate at a disappointing campaign. After 16 gold in 2000, 17 in Athens four years later and 14 gold in Beijing - Australia produced just seven in London winning 35 medals total. Ranked 10th overall, but hey sixth in silvers, Australia won just one gold in swimming, in the women's 4 × 100 m freestyle relay, which has usually been their strongpoint.
The poor performance in the pool led to a post-Games review which found misuse of prescription drugs, intoxication, deceit and bullying on the eve of the event.
Australian swimming's worst Olympics in two decades was undermined by a lack of moral authority and discipline manifested in a "schoolyard clamour for attention and influence", the independent review said.
Where the bloody hell are ya golds?
Swimming: Champions admit part in 'toxic' Games
Rugby
No Australian teams reached last year's Super 15 semis while the Wallabies lost five of their 15 tests in 2012 including a defeat to Scotland, however they did bounce back at the end of the season with a draw against the All Blacks and also beat England (something New Zealand failed to do).
Off the field dramas have matched rivals codes with Wallabies winger Digby Ioane being handed a one week suspension following an altercation at a Melbourne hotel last week.
Boxer/part-time tackler Quade Cooper vented his frustrations at the "toxic'' Wallabies environment and his relationship with coach Robbie Deans via social media last September.
Those outbursts earned him two fines totalling $60,000 and a three-match suspension. He later signed a two year deal with the ARU reportedly worth $800,000 a season.
Cooper takes another swipe at Deans on Twitter
Tennis
This year's Australian Open was another one to forget for home fans with the new great hope Bernard Tomic making the third round before facing Roger Federer. In the women's draw Samantha Stosur only reached the second round. It means Australia haven't had a men's champion on home soil since 1976 and a female winner since 1978. But they did claim the mixed doubles title.
Australian tennis is not in good shape. Lleyton Hewitt was the last grand slam winner at Wimbledon in 2002, Stosur has only gone backwards since her US Open title in 2011 while Tomic only makes headlines for off the court dramas.
More off-court issues for Tomic
Other sports
The one cup that Australia can at least guarantee every year hasn't even been in their hands since 2009. November's Melbourne Cup was won by an Irish-bred horse, the third straight year it has gone to a foreigner.
- nzherald.co.nz