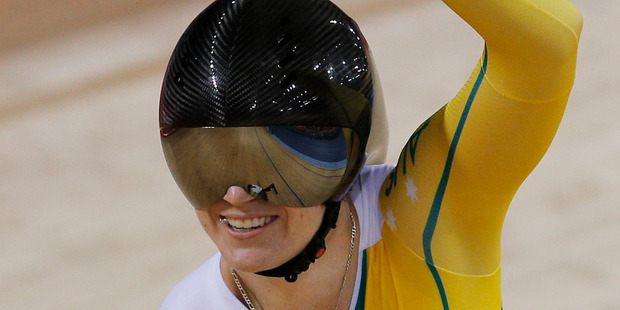 While Kiwis are beaming after last night's gold in the men's double sculls, across the ditch Australians are wondering where their gold medals are.
In the 2000 games, hosted by Sydney, Australia won 16 gold. Four years later they brought home 17 gold from Athens, and in the 2008 Beijing Games they netted 14 gold medals.
However, one week in and our Aussie friends only have the one gold - the same amount as their Trans-Tasman cousins.
Australian news websites are awash with headlines reflecting Olympic woe.
"Class of 2012 won't match recent years" and "Athletes on notice after Australian rower detained by police in London" reads a couple of headlines Sydney Morning Herald website, "Missile goes down" and "Pedals no medals" says the ABC website, while news.com.au is just as chipper, with headlines such as "Doom in the gloom for Mark" and "Australian Olympic swimmers aren't working hard enough: Susie O'Neill".
It's in the pool where Australian athletes have especially failed to live up to the public's high expectations.
At recent Olympic Games, the Aussies have found the pool paved with gold, however so far this year the pool has produced only the one gold medal - in the women's 4X100m freestyle relay.
Aussie swimmers have instead had to settle for five silver medals and two bronze.
Two-time gold medallist Susie O'Neill has questioned the swim team's work ethic.
"It's really difficult in my situation to feel like I'm bagging the current athletes, and it's easy to do that as a past athlete," O'Neill told broadcaster Foxtel, news.com.au reported.
"But what I've been hearing a little bit from different people is work ethic from Australian swimmers is maybe not the same as it used to be 10 years ago. I'm probably going to get bagged for that comment."
She argued the team's preparation leading up the games had been inadequate.
"Talent gets you this far in an Olympics, work ethic gets you across the line."
With only a few days remaining of competition in the pool, Australian swimming squad head coach Leigh Nugent has conceded the team will get "nowhere near" previous medal hauls, the Sydney Morning Herald reported.
"That's life. I've got a job to do, I'm doing the best I can, this team is doing the best it can and whatever measure people want to put on that, they are at liberty to do that," Nugent said.
The pressure placed on the athletes by the Australian public's high expectations can be seen on the faces of those highly favoured swimmers who have claimed silver.
One image doing the rounds on Facebook shows Emily Seebohm wiping tears from her eyes after getting a silver, juxtaposed with a pic of the New Zealand equestrian team celebrating after claiming bronze medals.
Australian swimmer Kylie Palmer told the Sydney Morning Herald the attacks were hurting the team.
"I think our whole team has heard a few negative comments but everyone has to realise that athletes put in their whole life - everything they possibly can - to the Olympic Games and it does only come around every four years," Palmer said.
Australia still has several gold medal winning chances to come, including the 49er class sailing crew of Nathan Outteridge and Iain Jensen, who are well ahead halfway through the competition, Anna Meares in the women's keiren, 100m hurdler Sally Pearson, and the men's hockey team.
In 1976, Australia failed to win gold. The same year New Zealand won two. Eight years later Australia brought home four gold medals. New Zealand won a whooping eight gold.
With more than a week remaining in the Olympics, could New Zealand once again win a larger haul of gold than its much larger neighbour?
Only time will tell.
-Herald online