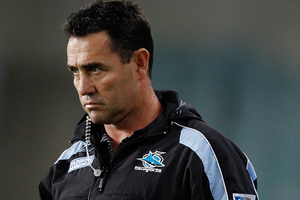 The Cronulla Sharks say their coach has been stood down and other club officials have had their contracts terminated amid an Australian Sports Anti-Doping Authority investigation into illegal supplement use at the National Rugby League team.
With their season opener set for Sunday against the Gold Coast Titans, coach Shane Flanagan was fired today while the team's football manager, head trainer, physiotherapist and club doctor had their contracts terminated.
"I'm shattered,'' said Flanagan, who was questioned by ASADA officials on Friday. "None of us had any knowledge of what was happening.''
The players say they were not aware supplements given to them by team support staff contained peptides banned by the World Anti-Doping Agency.
Up to 14 players have reportedly been offered full pay during a six-month doping ban if they waive their right to sue the club over the drug scandal, although a team official said Friday none will be asked to stop playing until doping allegations are proven against them.
"In the absence of ASADA action against any player, no player will be stood down or otherwise adversely treated by the club,'' Sharks deputy chairman Keith Ward said.
"Each player is entitled to an unfettered presumption of innocence. The consequence of any decision by players to provide substantial assistance to the ASADA investigation are a matter wholly between the players, their legal representatives and ASADA. The club has made it clear that any player who does cooperate in this manner will receive financial support.''
Cronulla players were reportedly given Thymosin Beta 4 and CJC-1295 peptides during the 2011 season.
The products were not on WADA's banned list at the time, but the section in the WADA code dealing with peptide use includes a catch-all phrase that makes it clear substances with a "similar chemical structure or similar biological effect'' to those listed are prohibited.
Some Cronulla players were reported to have visited the team trainer at his home on Thursday, a situation which ASADA's former chief executive Richard Ings called "outrageous.''
"That is borderline intimidation of the witness,'' Ings told local media. "Those players need to stand down and let the process take its course and not interfere with anybody who is seeking to bring forward information.
"That was completely out of line what those players did. They went and paid a visit to his home and had a bit of a chat with him. The club should hold those players to account.''
-AP