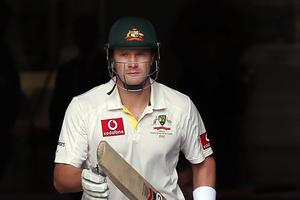 Australia captain Michael Clarke has blasted four suspended players for disrespecting head coach Mickey Arthur over the controversial homework-gate affair.
Arthur announced on Monday that vice-captain Shane Watson, Test quick James Pattinson and squad members Usman Khawaja and Mitchell Johnson had been ruled out of contention for Thursday's third Test against India in Mohali.
Australia trail two-nil in the four-match contest and Arthur had asked each member of the squad to make a presentation to him, either in person or in written form, about how the team could fight their way back into the series.
The four players failed to meet a deadline of Saturday night to make their presentations.
"It took a lot of thinking because you had to look at your game and where you thought you could improve, what you had learnt and what you could do to help this team level this series," Clarke said.
"The four players to not do it, not only does it let the team down, it also shows a lack of respect for the head coach and in the Australian cricket team that is unacceptable."
While former players including ex-skipper Allan Border have ridiculed the suspensions as schoolboy stuff, Clarke says it hasn't just been one incident that has led himself, Arthur and team manager Gavin Dovey to take dramatic action.
"There have been a number of issues on this tour where I don't think we have been hitting our standards," Clarke said.
"It's no coincidence we have lost the first two Test matches quite convincingly so we have to turn that around.
"We can't accept mediocrity here.
"This is the Australian cricket team."
Clarke echoed Arthur's sentiments that a ranking of third in Test cricket wasn't good enough and only No.1 would suffice.
"On this tour our performances have been unacceptable and there has been some stuff off the field for the standards an Australian cricket team needs to present itself to achieve what we are trying to achieve," Clarke said.
"It's a tough decision but at the end of the day if people are not hitting those standards there are going to be consequences."
Watson has also been juggling family commitments and headed back to Sydney on Monday night for the birth of his first child. There's confusion over whether he'll return for the fourth Test in Delhi on March 22.
The 31-year-old says he's shattered by his suspension and feels harshly treated.
"I am going to spend the next few weeks with my family and weigh up my options as to exactly which direction I want to go," Watson said.
"I am at a stage where I have to weigh up my future with what I want to do with my cricket in general."
- AAP