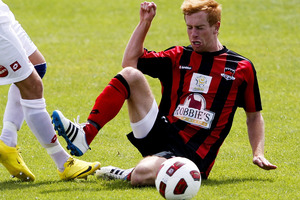 Canterbury United ended Waitakere United's 16-match unbeaten run with a deserved 3-2 win in Whenuapai on the same day YoungHeart Manawatu sealed the ignominy of a hat-trick of consecutive wooden spoon finishes.
Canterbury's defeat of the Minor Premiers Waitakere is the West Aucklanders first loss since the last year's semi-final first leg defeat, also to Canterbury, just under a year ago and was the perfect morale boost for the Dragons who now face Auckland City in the two-legged semi-finals starting next Sunday in Christchurch.
Auckland - who rested Ivan Vicelich, Chris Bale and Adam Dickinson - came from one goal down to comfortably beat YoungHeart Manawatu 4-1 in Palmerston North, while in what turned out to be a playoff match for minor places Waikato FC downed Otago United 3-1 at Ngaruawahia to finish sixth.
In Wellington, Hawke's Bay's hopes of leapfrogging Canterbury United into third were doused after they were beaten 4-2 by Team Wellington in the capital on Saturday.
Hawke's Bay went to the capital with high hopes of turning over a Team Wellington side eliminated from playoff contention two weeks previously but with Sean Lovemore, Bill Robertson and Jarrod Smith all missing, the Bay collapsed in the first 35 minutes as Adam McGeorge, Luis Corrales and Hamish Watson gave the capital men a 3-0 lead.
Stephen Hindmarch began the Bay comeback with a goal seven minutes before halftime only for Wellington debutant goalkeeper, Daniel Clarke, to gift Dakota Lucas a goal when he dropped a regulation catch at the Bay striker's feet on the stroke of halftime.
Hamish Watson - who replaced Luis Corrales early in the first half - netted his second just two minutes after the restart to ensure Team Wellington a 4-2 victory and at the same time set up a semi-final pairing between Waitakere United and Hawke's Bay United.
Waitakere United's bid to equal Auckland City's achievement as the only team to go a whole regular season campaign undefeated unravelled at Fred Taylor Park in Whenuapai. Canterbury United - without a win against the Super City duo this season - took the lead when Aaron Clapham blasted an 8th minute penalty past Danny Robinson. Waitakere levelled after Adam Highfield saved an Allan Pearce penalty only for the resulting corner to be smashed home from close range by Milos Nikolic after Jake Butler had crossed Chad Coombes far post corner into Nikolic's path five minutes before the break.
Russell Kamo restored Canterbury's advantage outpacing the Waitakere defence on 60 minutes before replicating the moment with a carbon copy finish 30 minutes later. Waitakere - down to ten players after substitute Daniel Jones was sent off - got back in the match when Canterbury defender Louie Bush watched his miscued clearance hit the back of his own net just seconds from the end to set up a nervy finish.
At Ngaruawahia, Waikato FC speedster Gurjeep Singh was the hero with two first half strikes that left Otago United trailing 2-0 at halftime. Aajay Cunningham set nerves jangling for home fans when he scored for Otago 9 minutes into the second half, only for Alexi Caroama Varela to sweep home a classy 70th minute goal to hand Waikato just their third win of the season and a sixth place finish, ending a run of seven straight defeats in the process.
In Palmerston North, YoungHeart Manawatu took a surprise early lead against an under strength Auckland City through Tom Mosquera after 3 minutes but went to the break level after a superb solo goal by Emiliano Tade. Manawatu keeper Matt Borren performed well but was unable to prevent a second half comeback by Auckland who added further goals by Manel Exposito, Dan Saric and Tade to complete a 4-1 rout. The defeat means Manawatu complete three consecutive seasons as the ASB Premiership's bottom club.
- APNZ