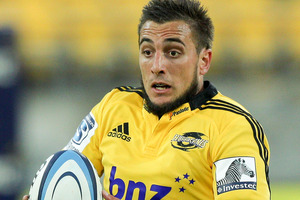 When it comes to the Hurricanes it can either go gloriously right or horribly wrong.
They don't tend to put in a lot of mid-card performances; they're either the basis of the weekend's highlight packages or they make more mistakes than an under-15 team in their pre-season training drills.
On Saturday night they produced the latter and Hurricanes coach Mark Hammett must have wondered how his side could make so many basic errors as they were humbled 34-20 against an upstart Blues outfit at Westpac Stadium.
They missed 26 tackles, committed six turnovers and made 12 errors, which all but waved the Blues through to a season-opening bonus-point win.
It was a game the Hurricanes should have won.
The Blues were expected to travel with a bucket-load of enthusiasm and little substance but they managed to bring both to give head coach Sir John Kirwan a dream start to his new job.
"I think a win just confirms up all the hard work we've done," Kirwan said after the game.
"So it just cements the belief and I think that's important. So we've cemented the belief; they've been running up hills, running up sand hills but the most important thing is we don't get carried away and we keep our feet on the ground. We've still got a lot of hard work to do."
Considering the Hurricanes experienced little player turnover from last year it seemed strange they weren't able to click.
Granted it was the team's first competition game of the season but basic skills eluded a majority of the players, while they didn't attack with direct lines through the backs.
Hurricanes second-five Tim Bateman said it was too early in the campaign to be worried about their form.
"We all know we are capable of catching and passing and taking the ball into contact," he said.
"It's just a case of when to force that extra pass that we've got to get better at."
If half of their dropped passes had stuck on Saturday night they probably would have cantered away with the points - they led 20-16 mid-way through the second spell - but they tried to force too many plays and didn't employ the required level of patience to build on attack.
Providing the Hurricanes can find the right balance between risk and reward they have too much talent to not be a play-off contender this year.
Bateman said despite the Blues' green look on paper they didn't take them lightly.
"We definitely didn't underestimate them. We knew they were big, strong boys that carry hard. We knew that they were probably similar to us last year in that they had nothing to lose. They're going to want to play from everywhere and had heaps of confidence."
Blues backs Charles Piutau, Francis Saili and Frank Halai all looked dangerous with ball in hand, while first-five Chris Noakes was impressive.
The Blues host the Crusaders at Eden Park on Friday night as they look to build on their promising start to the season, while the Hurricanes head across the Tasman to meet the Reds at Suncorp Stadium on the same evening.
Blues 34 (Frank Halai 2, Charles Piutau, Rene Ranger tries; Piri Weepu 4 pens, con) Hurricanes 20 (Julian Savea try, penalty try; Beauden Barrett 2 pen, 2 con) HT: 11-13.
- APNZ