Southern horseman won't mind watching from home should mare score at Otaki.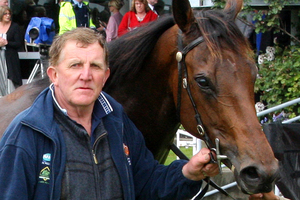 John Parsons knows there may be no light at the end of this tunnel.
But the North Canterbury horseman is determined, in that stoic southern-man way, that there will also be no feeling sorry for himself.
Parsons and his wife, Karen, are preparing super mare Final Touch for this Saturday's star-studded feature at Otaki as she chases her fourth group one for the season.
Parsons will be watching from home but regardless of the result, the race will be uncomfortable for him. Because these days anything intensely visual - and few things tick that box more than racing - is hard on Parsons.
The dual-code training supremo knows he might be going blind.
The prognosis is not certain, the symptoms varying.
Every now and then Parsons has to visit "the bloke in town", his none-too-affectionate name for the eye specialist, and often comes home confused.
"He told me it is sort of like I have had a stroke behind my eyes," Parsons told the Herald.
"But the bugger of it is the eye which was my good one is now worse than the other one.
"And then sometimes the other one bounces back for a while.
"Some days I struggle to read the big letters on the top line of the eye chart, other days I can read halfway down."
Parsons gets injections in his eyes, which leave him with painful headaches and photophobia.
So while he is still a regular at South Island race meetings he sports wraparound sunglasses so dark Elvis would be jealous.
"The sunlight is the worst thing so I don't go outside without the glasses."
At 64, Parsons has known his share of knocks and more than his share of glory.
He has trained group one winners on the biggest stages in New Zealand, including Seamist, whom he rates right alongside Final Touch.
Karen and he have been consistently successful in the North Island, a rarity for a southern galloping trainer.
But there is more to Parsons' tale than that.
He has also trained harness horses for 30 years and raced in the greatest harness Cups, his strike rate envied by even the best.
Along the way there have been broken hips and the sort of injuries you sustain when you ride, drive, shoe and even break in the odd horse.
Parsons has overcome them all but his latest physical challenge may beat him.
"I can't shoe a horse any more, but I suppose at my age I shouldn't be doing that anyway," he chuckles, as he always does, as if he is guarding a secret.
"And I can't drive the car on the road any more. I still drive the old one around the farm but I'm scared if I go out on the road I might take out a cyclist."
But when the going gets tough, well, people like Parsons keep going.
"I'm blowed if I know what is going to happen but if I lose my sight altogether there isn't much I can do about it. I am not going to sit around worrying about it either because there is work to do.
"And plenty of good people get sick or get hit by a bus and they don't get to do all the things I am doing."
And, of course, he will have Karen to look after him, he hopes.
"I don't think the old girl is going anywhere so I think I'll be fine either way," again with the chuckle.
And for a man who has spent most of his time working, taking time to enjoy the beautiful things in the world has never really been Parsons' priority.
However, he will this Saturday, when Final Touch prances on to the track at Otaki.