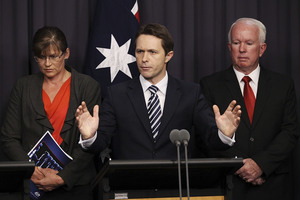 The NRL says it is not yet in a position to notify what are believed to be six clubs that have been under investigation as part of the explosive probe into Australian sport.
The AFL yesterday announced multiple players from Essendon and one player from another AFL club were being investigated for the use of performance-enhancing drugs.
It came after federal Justice Minister Jason Clare said clubs from both codes involved in the Australian Crime Commission report could now out themselves.
But the NRL said it was yet to inform the clubs involved in the probe into the use of banned substances and links with organised crime within the code, and hoped to do so within the next two days.
However, even once they have been told, it will be up to the clubs to decide whether to go public.
"The NRL is in close and productive negotiation with the Australian Crime Commission to establish a formal mechanism by which we can inform individual clubs that they have been the subject of intelligence gathering by the ACC," the NRL said yesterday.
Clare, the public spokesman for the report, said the ACC had already given the names of teams and individuals to both of the country's biggest sporting competitions.
ACC chief executive John Lawler said he was working with the individual codes to work out if there was a way for full disclosure to take place.
The release of club names would have to be within the law, which states there cannot be any adverse impact on a club or individual. While the codes were aware of the clubs involved, they were under strict legal obligations not to release the names publicly, he said.
He said there might be some scope for self-disclosure.
Lawler said he was sympathetic to clubs and players that were in the right, but the purpose of the report was intended to be an "alert" to everyone to improve their safeguards against drug-taking - a point he felt had been missed. It also served as a trigger for players, coaches and individuals to come forward.
-AAP
Play Virtual & Fantasy NRL
Test your tipping skills with Virtual or create your dream team with Fantasy NRL and be in to win a slice of over $7,000 in prizes.
Get in the game and sign up now.