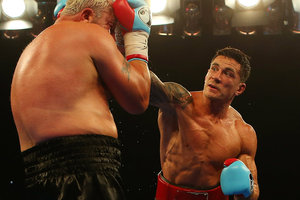 Sonny Bill Williams proved his boxing credentials with a controversial unanimous points decision over South African Francois Botha in Brisbane tonight.
Williams, a former All Black and league international, dominated much of the ten round fight before surviving a barrage of late punches from the veteran Botha.
But confusion reigned heading into the 10th round when the referee announced it would be the final round, despite the fight originally scheduled for the full 12 rounds.
There has been no official explanation as yet for the reduction in the number of rounds and Botha and his team were visibly upset at the result and the ruling following the fight.
Williams was out on his feet with 45 seconds to go in the tenth round, and lost a point for holding with seconds to go, barely able to stand up. If the fight had gone much longer, he surely would have lost.
Botha was not impressed with the decision and demanded a rematch in Cape Town in his post match interview.
Williams looked comfortable using his jab and established control through the early rounds and looked comfortable taking punches from Botha, whose previous opponents include Mike Tyson, Lennox Lewis and Evander Holyfield.
Botha came into the fight in the later rounds and Williams looked in trouble, but some capable defence was aided by the bell.
Williams said after the fight he would concentrate now on his commitments with the Sydney City Roosters and he was non-commital about his future in the ring.
-nzherald.co.nz